he Down Home Writing School (DHWS) offers seminars for writers working in any genre and at any level. But the DHWS delivers something different: Lauretta's Down Home Approach.

Think about it. When you go down home, you're surrounded by the people who will tell you the truth, help you along, and send you off with what you need. That is what Lauretta will do for you.



Nuggets o' Straight Talk for Writers & Those Who Aspire to Be
-from an interview for the Author Learning Center, November 2017

Self-Inflicted Obstacles to Becoming a Writer and How to Overcome Them
https://www.youtube.com/watch?v=RlheHX3Oyi0

Author Lauretta Hannon on How Her Brand, "The Cracker Queen," Has Captured Readers
https://www.youtube.com/watch?v=ZfkBttCR1bE&t=14s

The Importance of Authenticity in Telling Your Story as a Writer
https://www.youtube.com/watch?v=BZygAGxJR5U


See photos from my recent writing residency at the Hambidge Center for Creative Arts & Sciences

Why do YOU write? I WRITE BECAUSE...

Lauretta riffs on writing & The Cracker Queen




**I am dreaming up entirely fresh workshops for 2019.
You're gonna love 'em. Stay tuned.**



.....................................................................................

Down Home Writing School Seminars



Don't Wait for 'Em to Die: A Master Class in Memoir

TBA


Marietta Museum of History
Marietta, GA

Listen to my WSB Radio interview about this class.
http://www.thecrackerqueen.com/LaurettaWSBRadioSegment.mp3

Writing a memoir is a powerful, life-changing act, whether you ever publish it or not. This seminar addresses the issues and challenges specific to the memoir. This master class is perfect for the beginning writer and the seasoned author alike.

In this three-hour seminar you'll learn:

-How speaking your truth will set you free
-How to handle painful subject matter
-How to recognize the real F-word: FEAR and put it in its place
-How to deal with the opinions and reactions of family and friends
-How to revive old memories and fill in the gaps
-How to begin, organize, and frame your story
-Why authenticity matters more than anything else
-How marketing is essential to your success
-How to easily identify literary agents who are looking for memoirs

Each attendee will receive a workbook, resource packet, and recommended reading list. Once the master class has concluded, join us next door at Hemingway's for a libation and casual discussion.



.....................................................................................



One-on-One Consultations
June 15, 2019
August 10, 2019
*SOLD OUT*
Marietta Museum of History
Marietta, GA
Email Lauretta to get on the waiting list. Openings usually occur.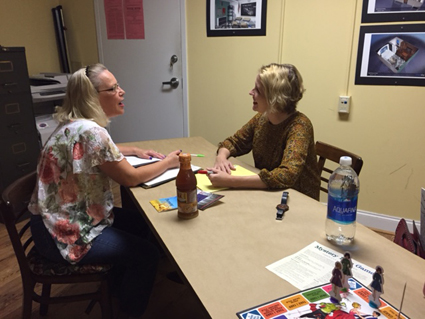 Providing consultation to Fellow Scribe Cindy Pope (at left)




.....................................................................................




What Participants Have to Say

"Lauretta's seminars are like a family reunion for writers of all levels. You will leave with a mentor, a map for your writing journey, and a new tribe of travelers."

"Her writing classes ignite you. They send you scrambling to the page, eager to apply her no frills, no prisoners, no-nonsense advice. She accomplishes the impossible in getting you from the excuses to the story."

"I went to a great writer's seminar this past weekend. Lauretta Hannon gave the seminar, and it was truly the best that I've ever attended. She gave great information, helpful tips, and encouragement. I have been to many different seminars, and some of them were good while others were just downright intimidating. Lauretta Hannon was fun! Read her book, The Cracker Queen! You will love it!"

"In her classes you have no worry of 'making the grade' or being judged. You'll learn what it takes to write a short story or your life's story. You'll leave with a smile on your face, some new friends, and with an experience you won't forget."

"Lauretta's workshops leave you inspired and rejuvenated, ready to grab that pen/paper/keyboard and get going. I can't wait to put my new skills to use!"


.....................................................................................



About the Instructor

Lauretta Hannon is a bestselling author, syndicated columnist, and commentator on National Public Radio's All Things Considered. She has taught and encouraged writers for twenty years. As a writer she has captured more than 100 national awards. Her memoir, The Cracker Queen--A Memoir of a Jagged, Joyful Life, became a bestseller only three weeks after its release in April 2009. In 2010 the Georgia Center for the Book named her work one of the Top Twenty-Five Books All Georgians Should Read. Lauretta has completed five writing residencies at the Hambidge Center for Creative Arts and Sciences. She is at work on her next book.



For more information email Lauretta at hannonlauretta@gmail.com