Check out my new essay in this delightful book. Available to order through your local bookseller or Amazon, February 2021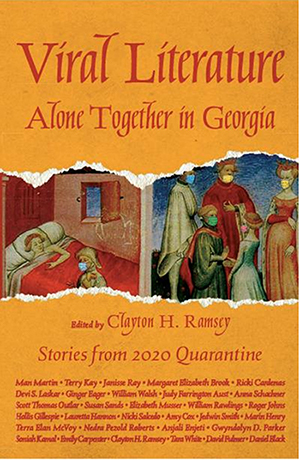 Iíve started recording some of my favorite written things from across all traditions, across all times. These are posted on my Facebook page, February 2021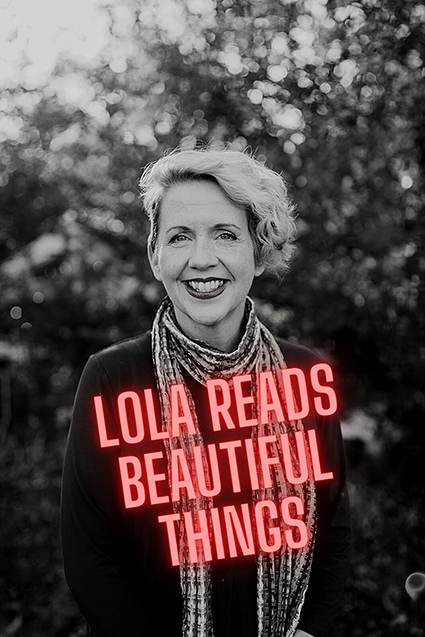 Southern women have standards even during a pandemic, April 2020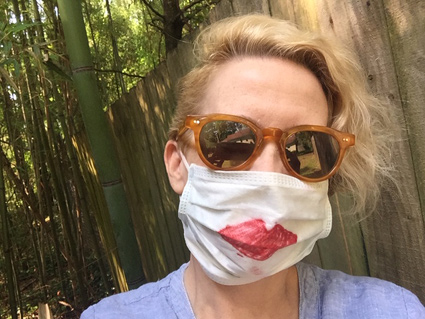 Heading to Sapelo Island for the She Who Laughs Retreat, October 2019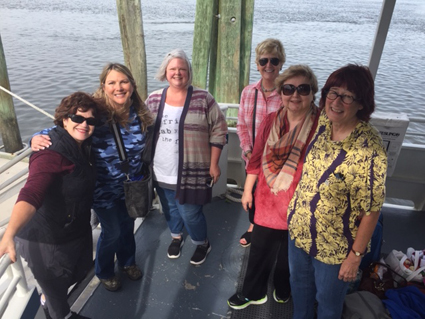 Wait for me! I almost forgot my pink tutu! She Who Laughs, October 2019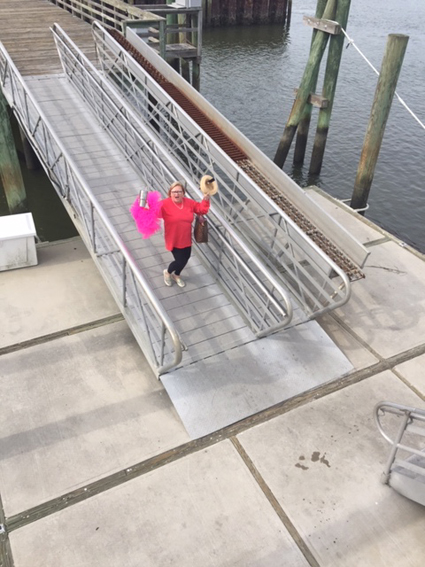 Queens everywhere, Darien, GA, October 2019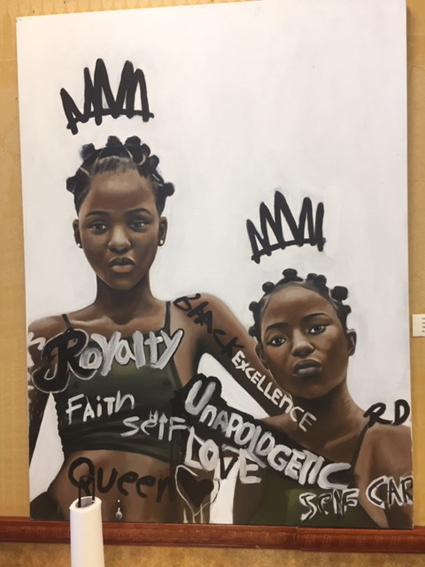 With readers at the Georgia Writers' Museum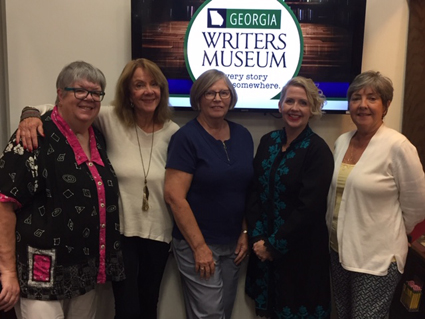 All signs pointed to a much-needed writing residency at the Hambidge Center, November 2019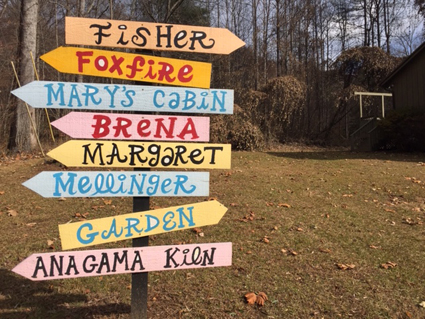 Thanks to Smoke Rise Baptist Church for having me as its keynote speaker at the ladies' holiday dinner, November 2019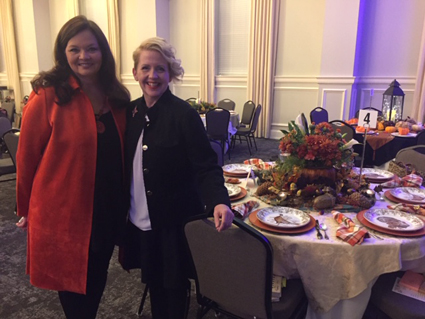 Truth.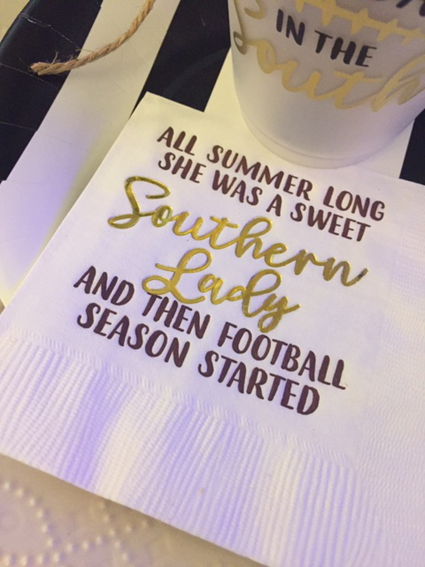 September 2018
YouTube channel coming soon...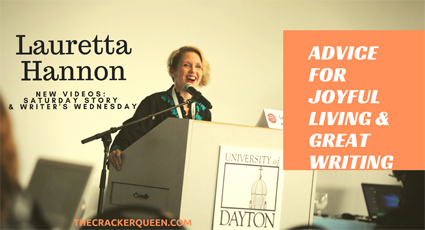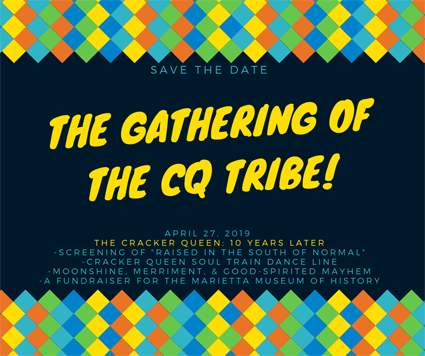 Erma Bombeck Writers' Workshop, University of Dayton, April 2018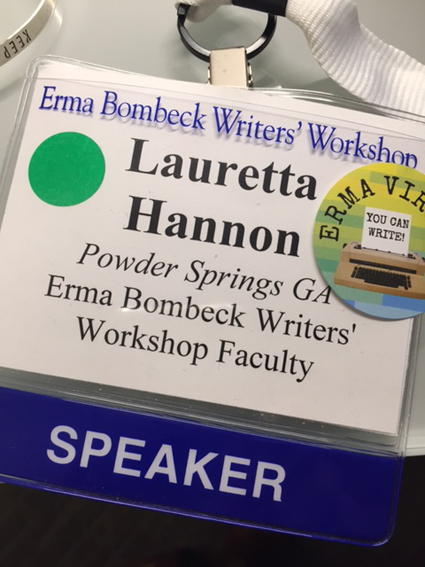 With Mimi from "The Drew Carey Show." She is Kathy Kinney, a great comic writer & actress.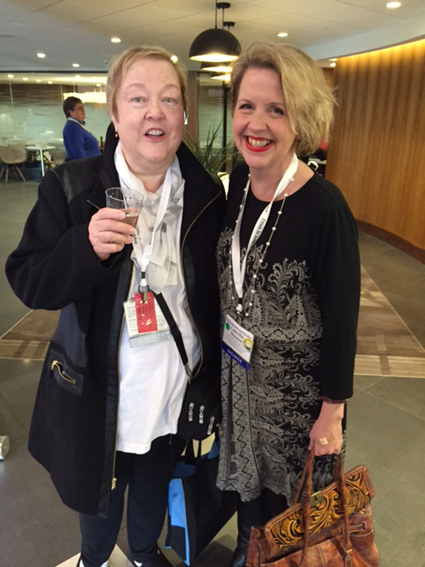 Met some wonderful folks.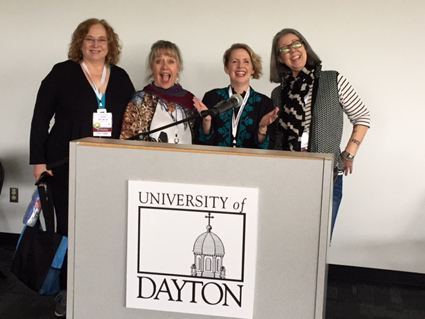 Wonderful folks, part 2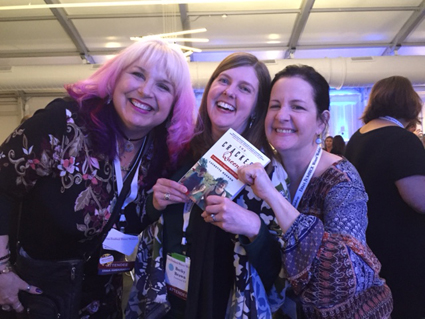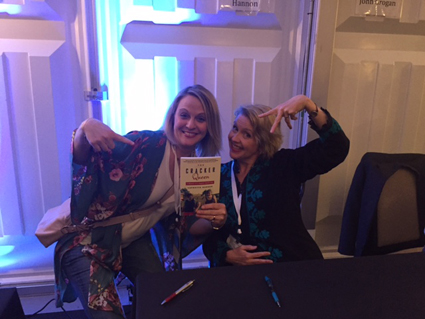 Things got more & more festive as the night wore on...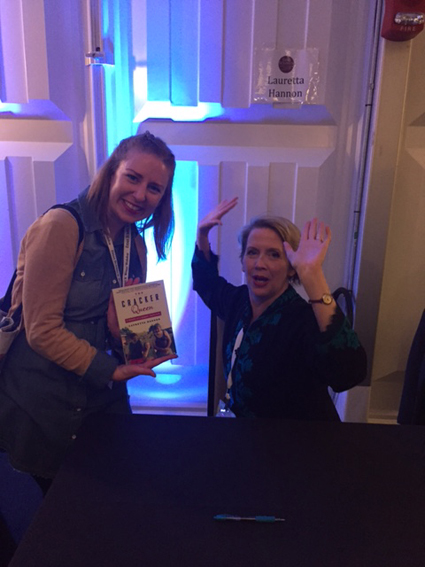 Another fab piece by Burnt Barn Studio; the artist is one of us, as you can see. You can enjoy more at https://www.etsy.com/shop/BurntBarnStudio?ref=shop_sugg​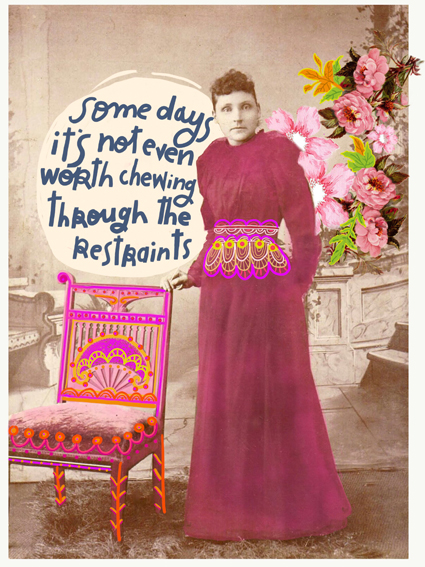 If we're not Facebook friends, you're missing out on mostly daily, always deep wisdom from me such as this.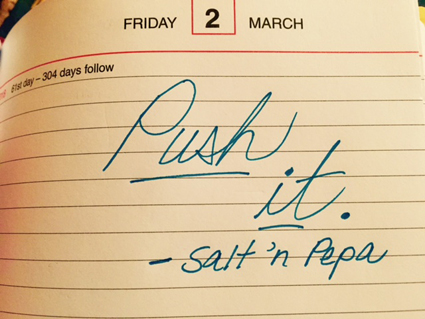 The Basilica of St. Nicholas, Amsterdam, Holland, February 2018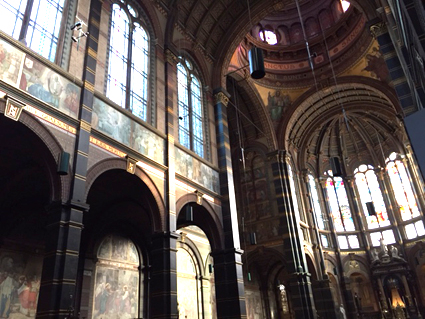 Amsterdam is home away from home because my friend is there, February 2018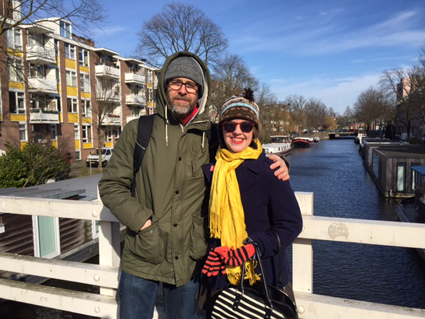 De Krijtberg Church, Amsterdam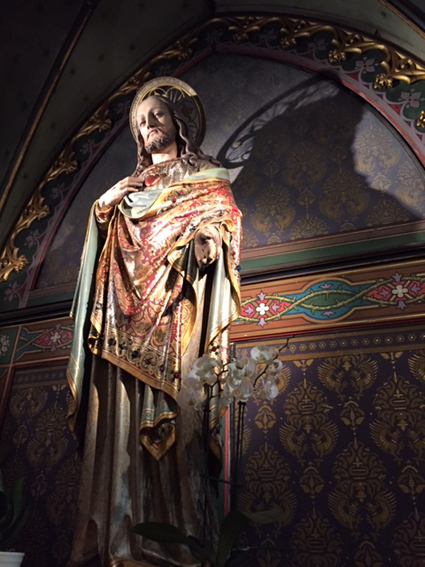 Scenic Amsterdam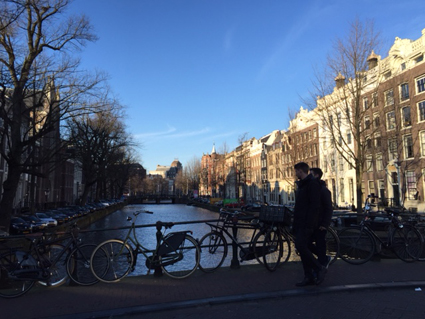 Typical city street, Amsterdam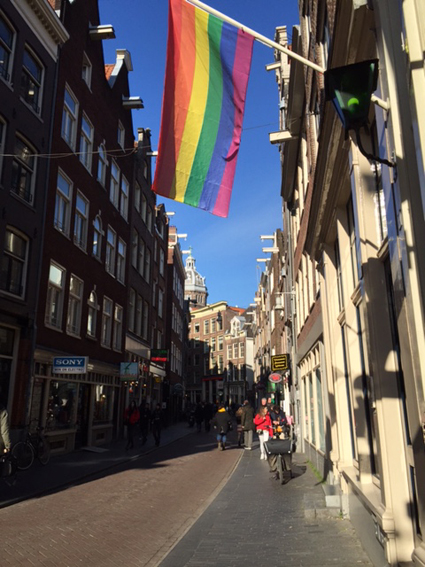 If you only knew how much I love seeing writers at work! Memoir Master Class, July 2017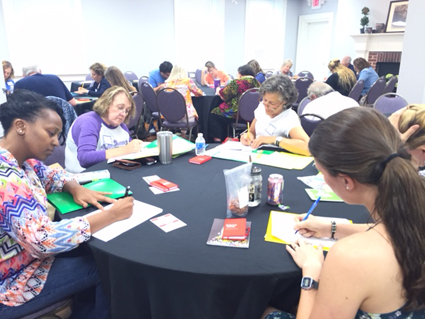 Scribes putting together their 6-word memoirs, July 2017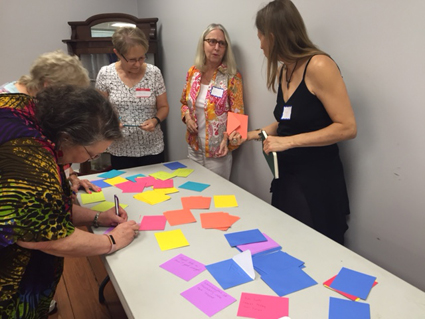 Hanging out after the Memoir Master Class, July 2017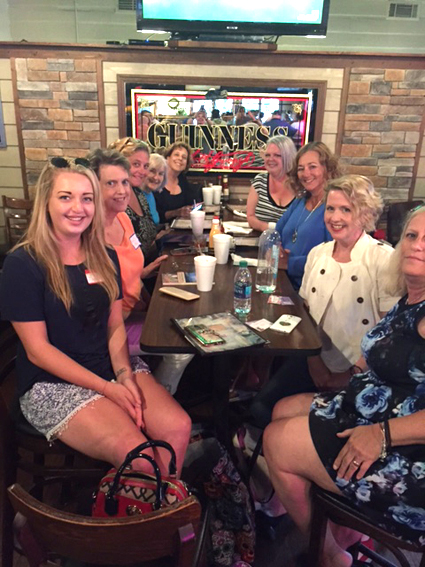 Six-Word Memoirs, July 2017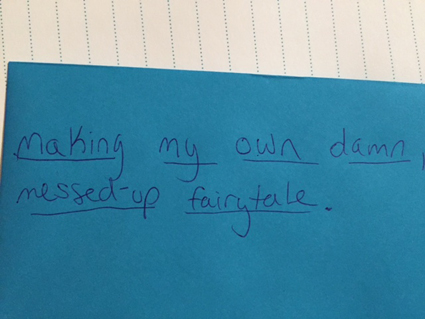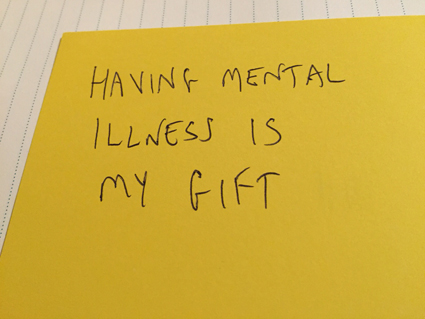 So honored that Gina Heron drove many hours to get to her one-on-one consultation with me. You'll be seeing her name in your bookstore before long--just you wait and see. Summer 2017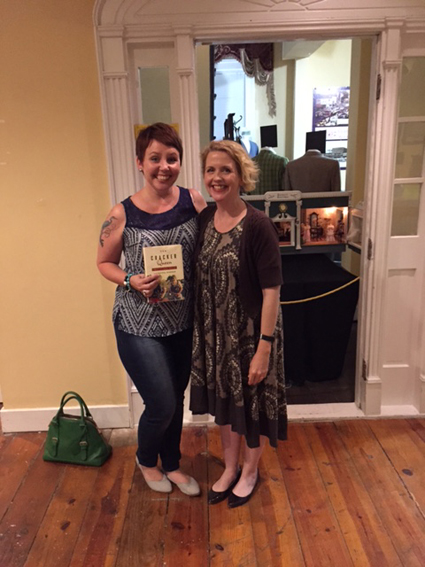 The girl with the tattoos hails from South Africa and has such a story to tell. I'm glad she attended the Memoir Master Class.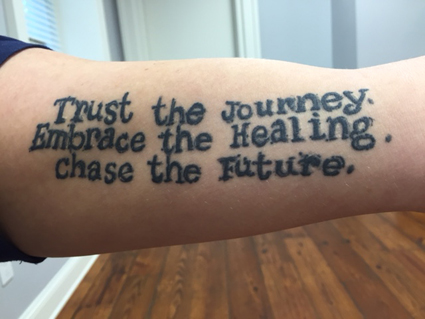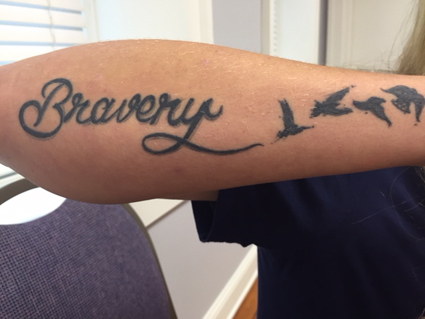 They became fast friends after meeting at the Memoir Master Class.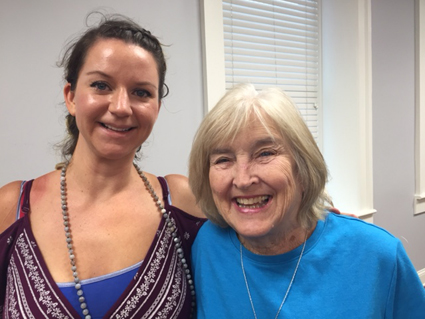 Had a blast as the keynote speaker at the Heart of Georgia United Way's Annual Volunteer Banquet. Pictured with Johnny Payne, head of the organization. Summer 2017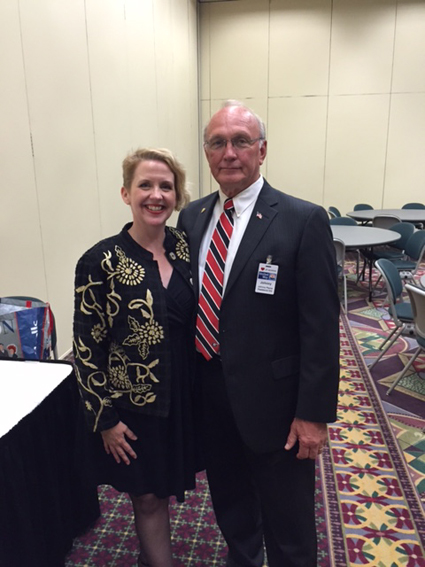 With fellow writers at Whitworth Women's Facility, March 2017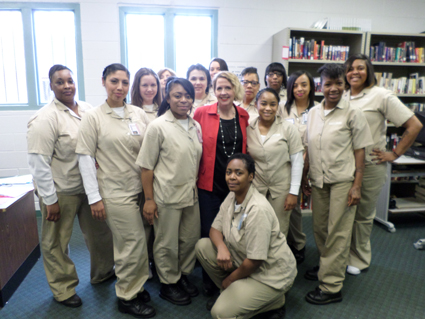 Six-word memoirs from state prison inmates, March 2017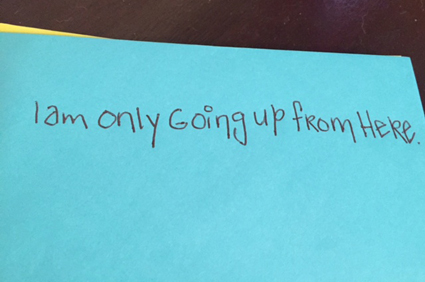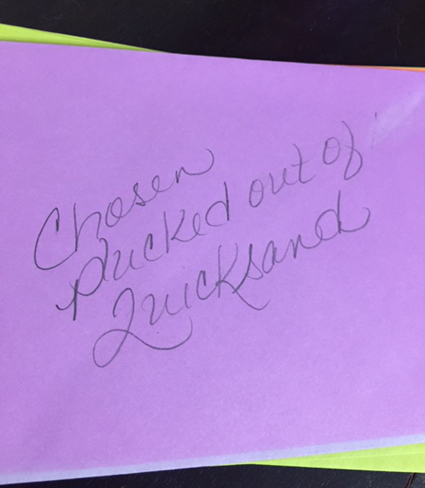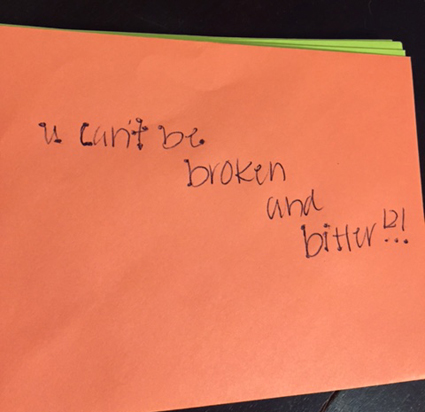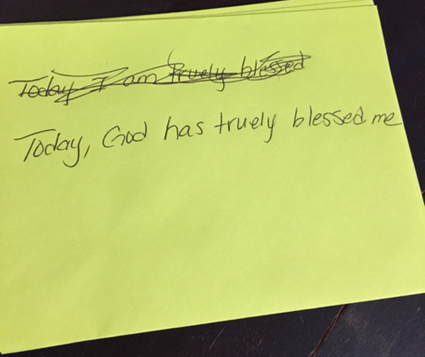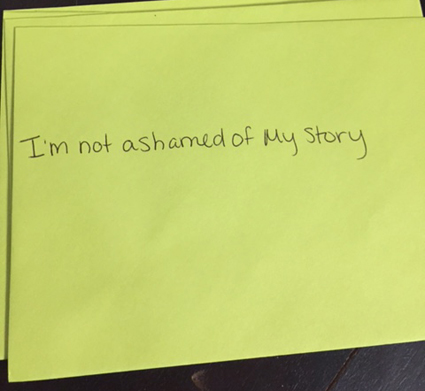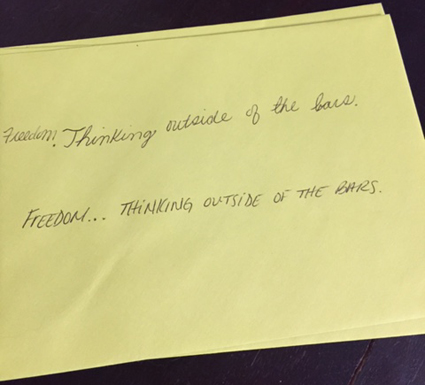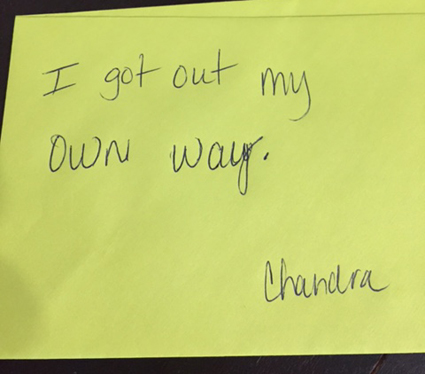 Sign of support for the folks devastated by the Gatlinburg fires, December 2016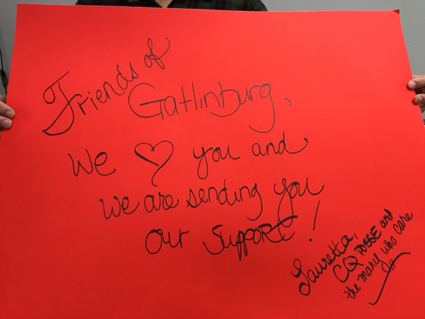 Gathering for my reading of Capote's A Christmas Memory to benefit Gatlinburg, December 2016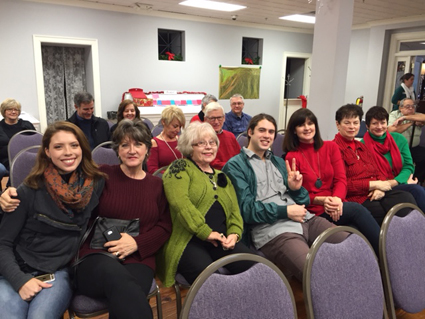 All of my events seem to produce a photo exactly like this one, December 2016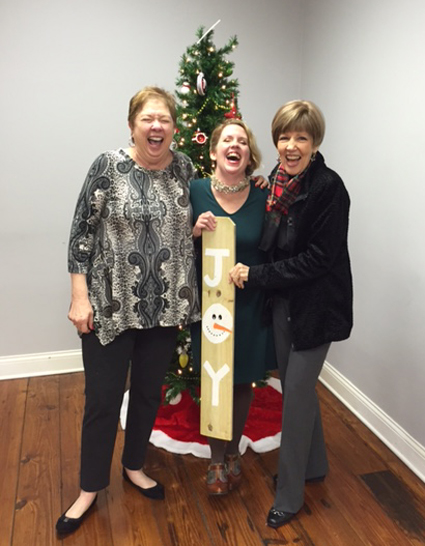 Great fun being on Belinda Skelton's show on WSB Radio--talking about the memoir class, October 2016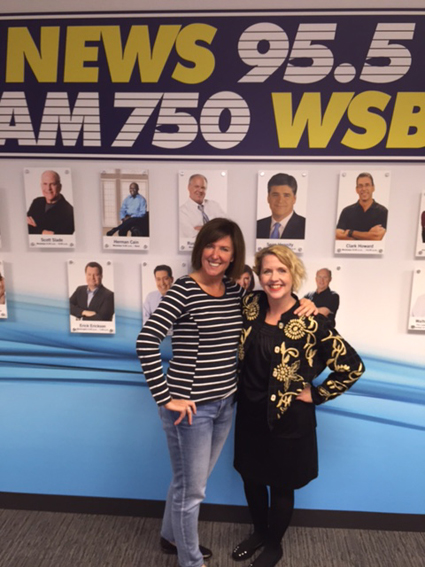 A six-word memoir from the memoir master class, October 2016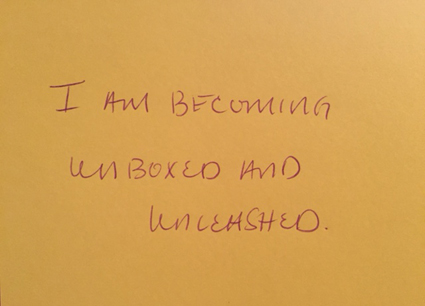 A scene I never tire of: writers at work (memoir master class), October 2016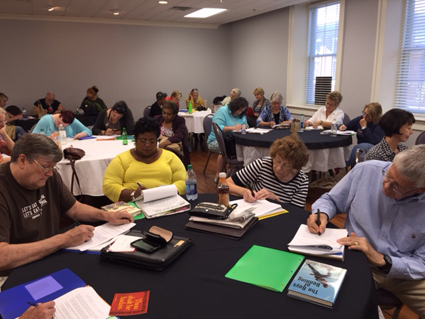 ​​Presentation to the Atlanta Writers' Club, July 2016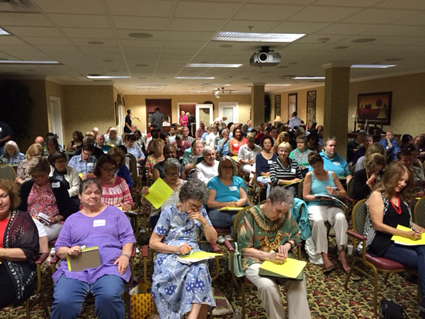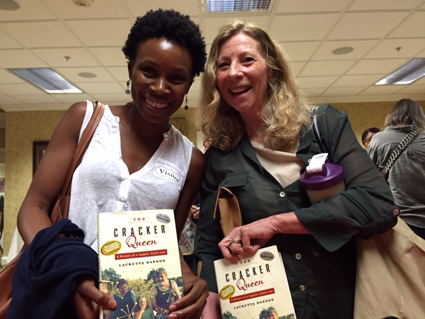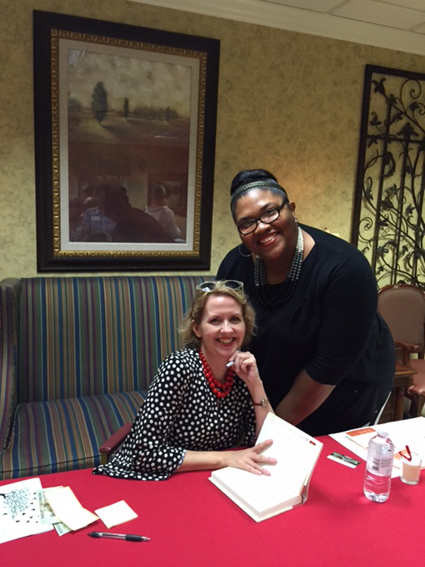 The Great Atlanta Write-In, April 2016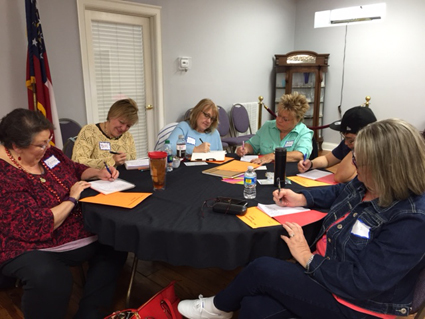 Writers hard at work, April 2016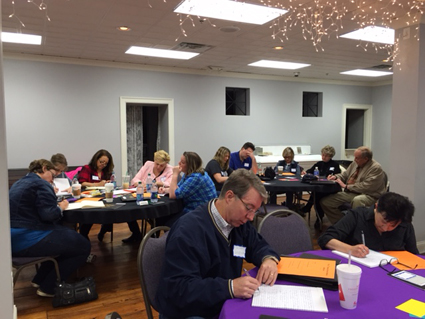 Enjoyed being the keynote speaker for the Ferst Foundation of Henry County's annual luncheon. I'm here with a new CQ reader. March 2016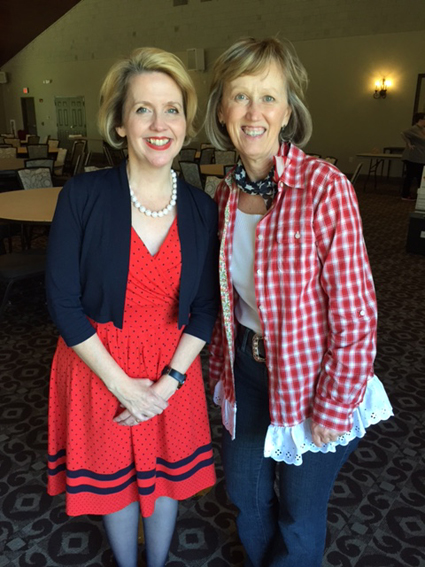 Laughing with WABE's Kate Sweeney after my interview, March 2016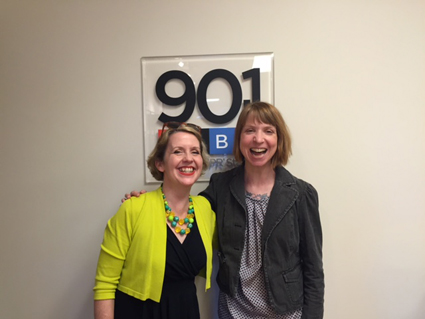 Pat Conroy Note Writing Gathering, February 2016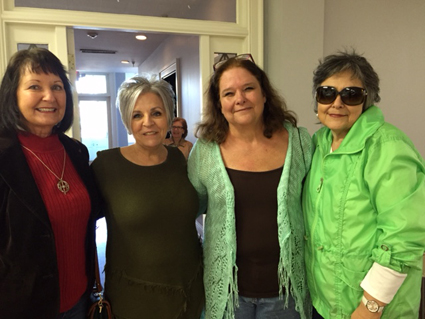 Our Note Writing Gathering for Author Pat Conroy resulted in many messages of support for him. Sadly, Pat lost his battle with cancer not long after.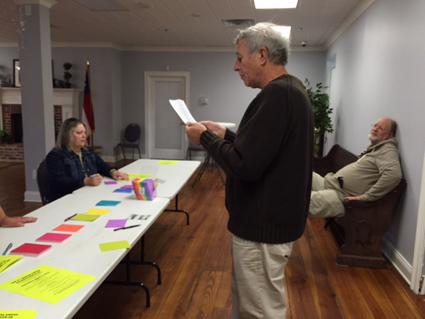 With the spirited, super-talented crew of Raised in the South of Normal, Summer 2015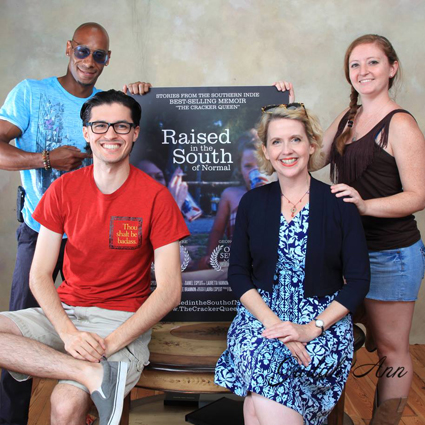 Jeanne Fitz-Gerald Shilstone and Joyce Gipson Towers, both from Texas, represented the CQ Posse beautifully at the Rockport Film Festival on the Texas Riviera (who knew?), Fall 2015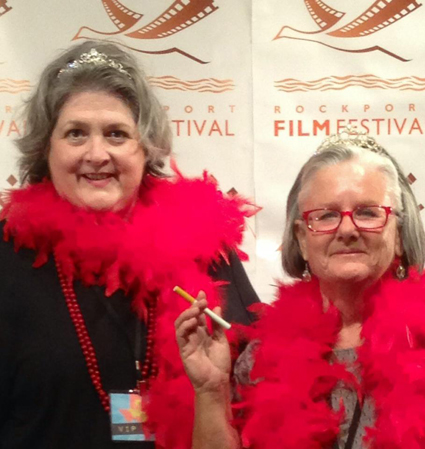 Showing off a gift from a reader at the Rome International Film Festival, Fall 2015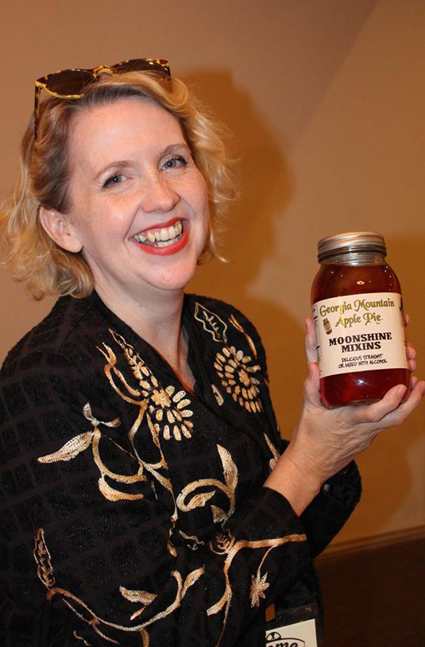 Pre-Screening Party for Raised in the South of Normal, Macon Film Festival, July 2015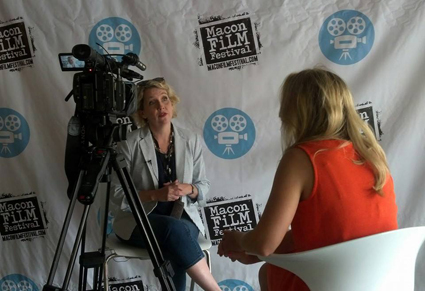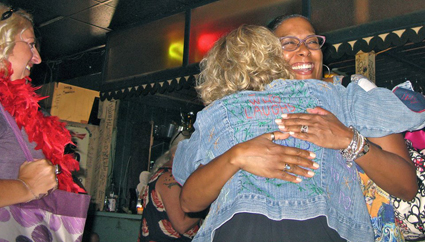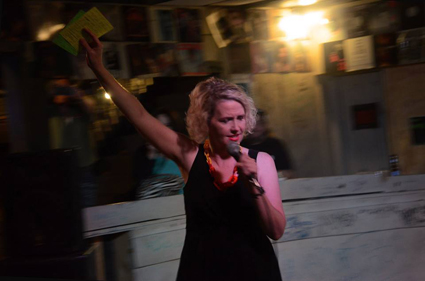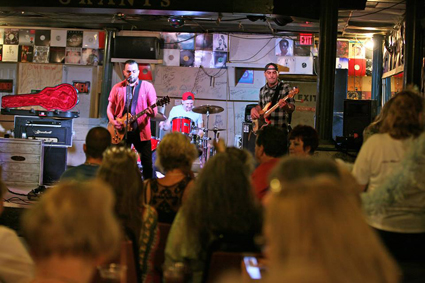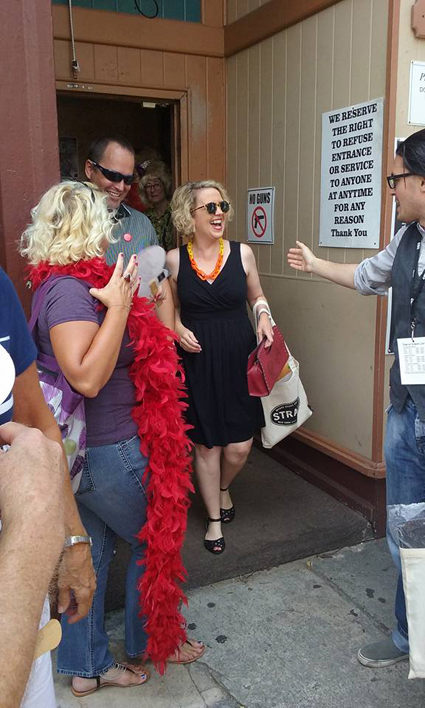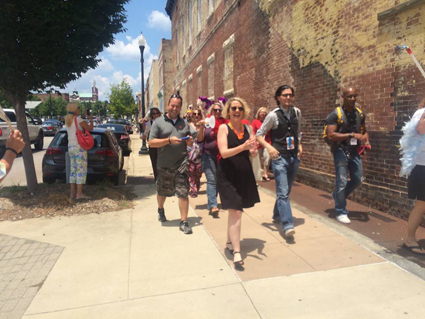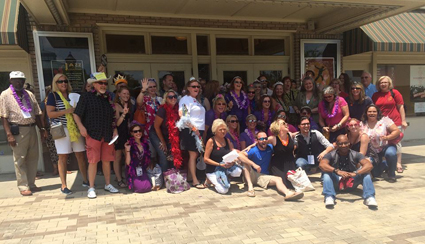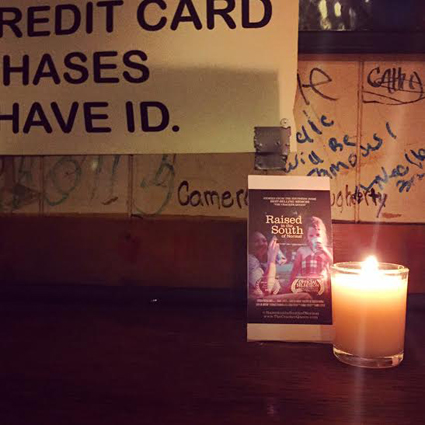 Scenes from The Great Atlanta Write-In, Spring 2015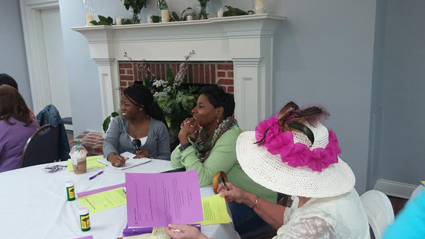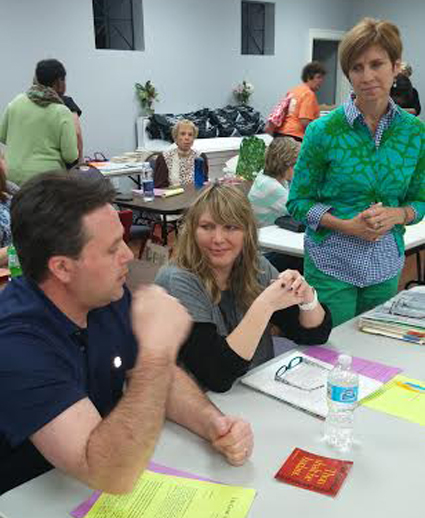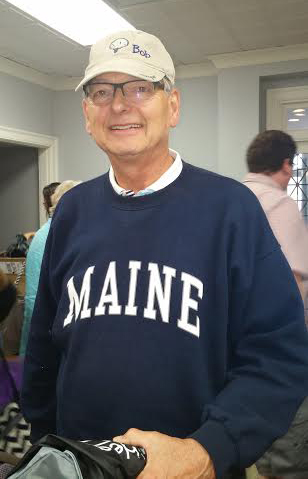 Raised in the South of Normal, the documentary based on The CQ story, is hitting the film festival circuit and has been accepted into 4 festivals so far.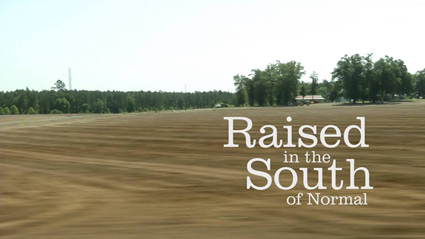 The Grow Your Joy class was indeed a joy to teach! Spring 2015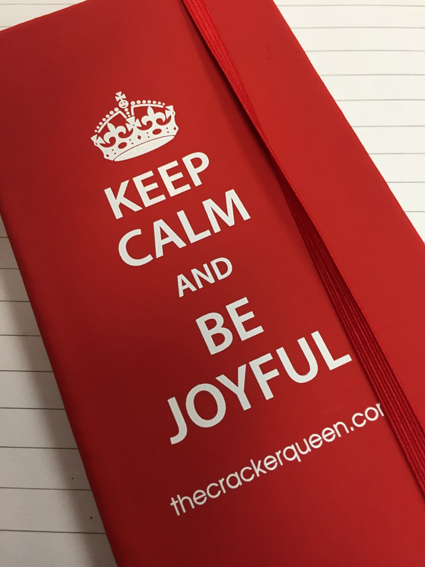 Watch the Sneak Preview of Raised in the South of Normal February 2015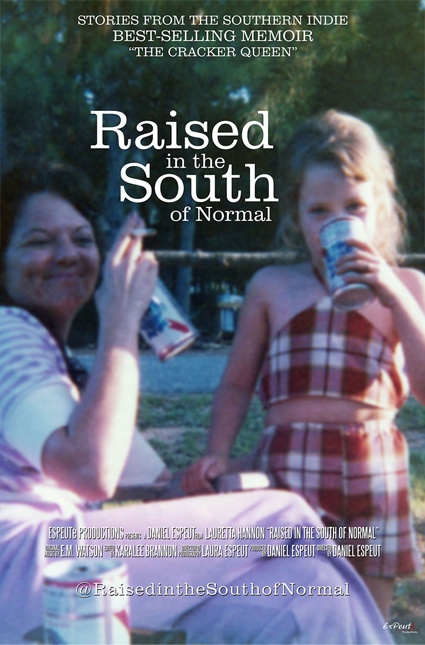 Silence and solitude at the Monastery of the Holy Spirit, December 2014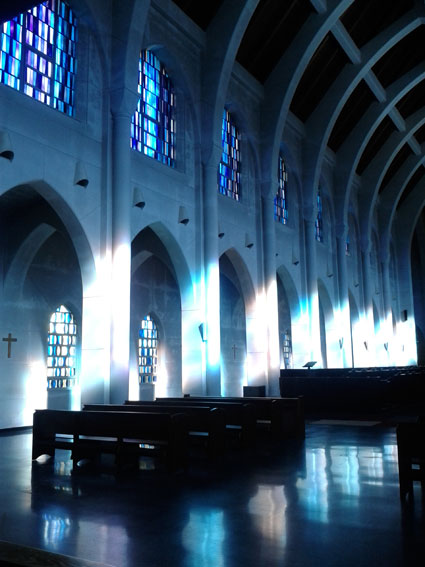 Writing Residency at Hambidge, Fall 2014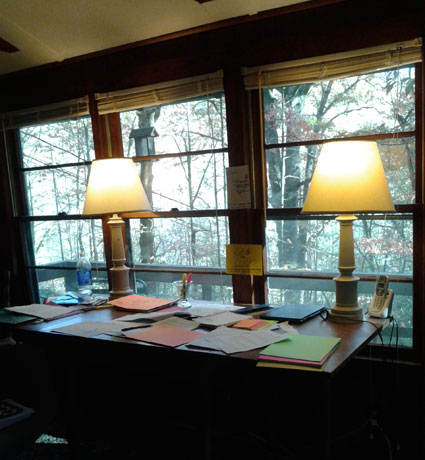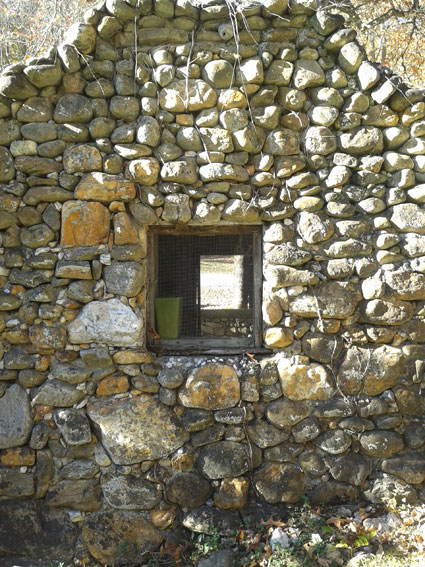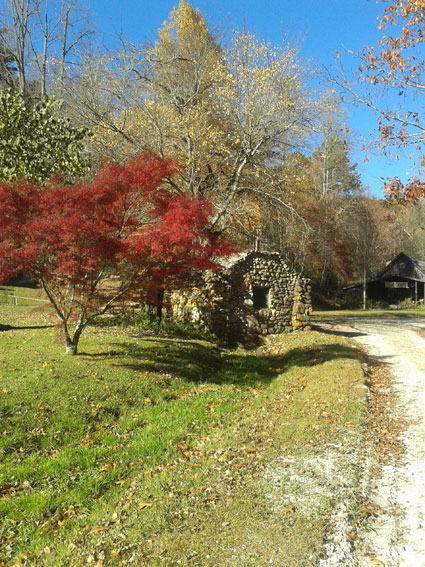 Summer 2014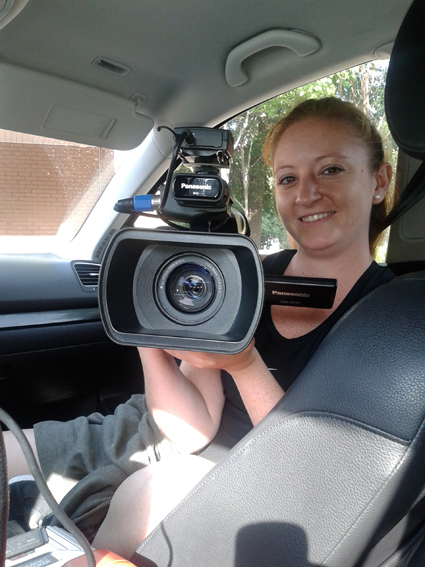 Filming of The Cracker Queen documentary got up-close and personal. This was my view throughout the two-hour drive to my hometown of Warner Robins, GA.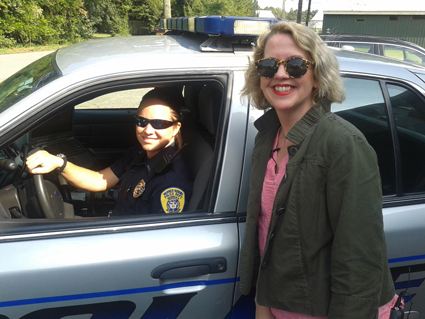 The old neighborhood is pretty sketchy now, so the city authorities required that we have a police escort during the filming there.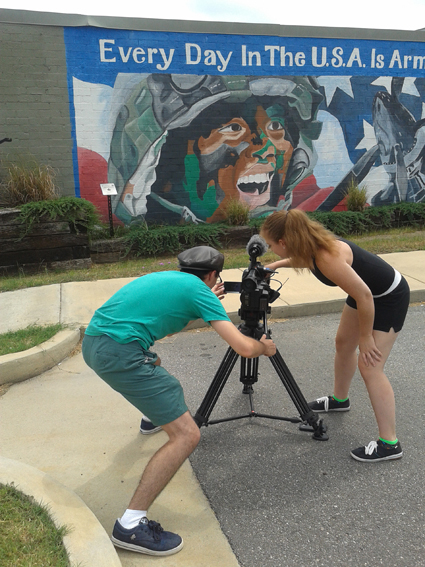 It was great fun watching the crew at work. The documentary will be available for viewing in 2015.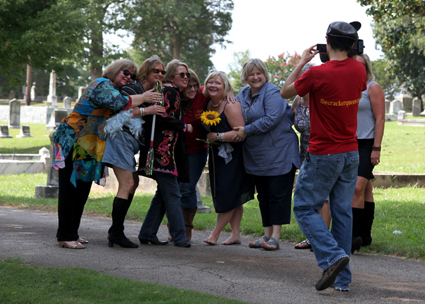 Wherever I go, The CQ Posse goes! That's filmmaker Daniel Espeut at right. The CQ documentary is his brainchild, and I'm grateful for his vision and passion.
Spring 2014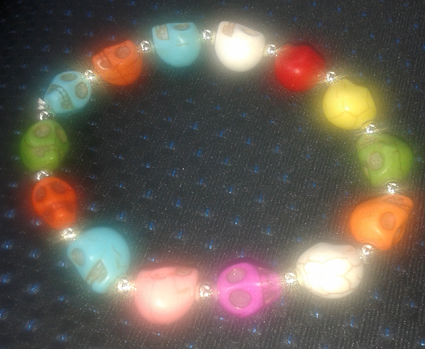 I donned this for one of the recent Down Home Writing School seminars and explained, "These are the heads of those who would try to tell us we're not writers."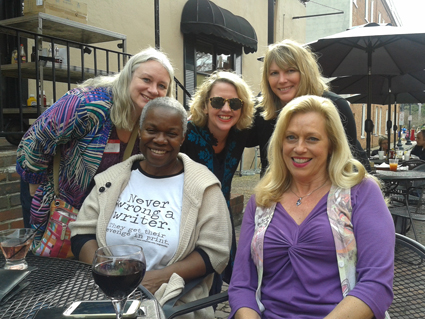 Gathering after the Memoir Master Class held in Marietta, GA
February 2014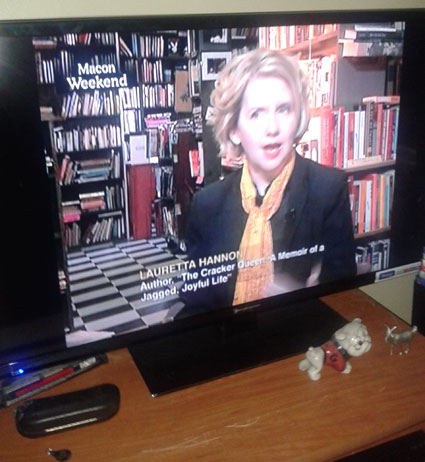 Thrilled to be featured on C-SPAN.
November 2013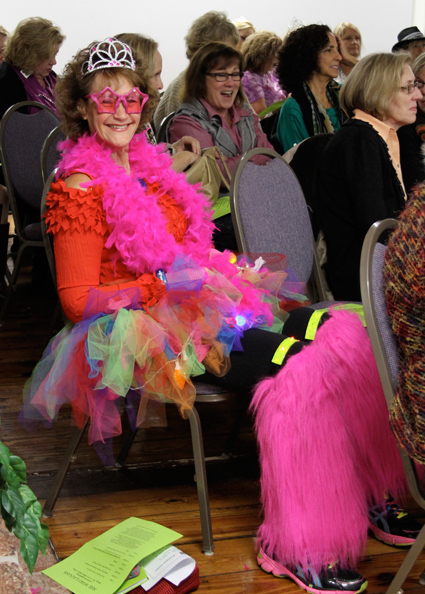 You never know what you'll see at a Cracker Queen event. Susan Crane pulled out all the stops (and all the fake fur available at Party City) for my Master Class in Joyful Living. Photo by Jennifer Carter.
Fall 2013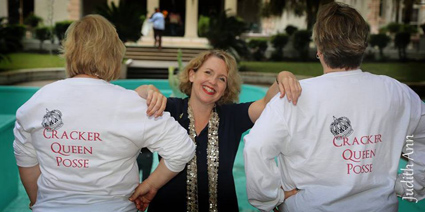 With CQ Posse honchos at my women's retreat on Sapelo Island, GA.
Photo by Judith Ann.
August 2013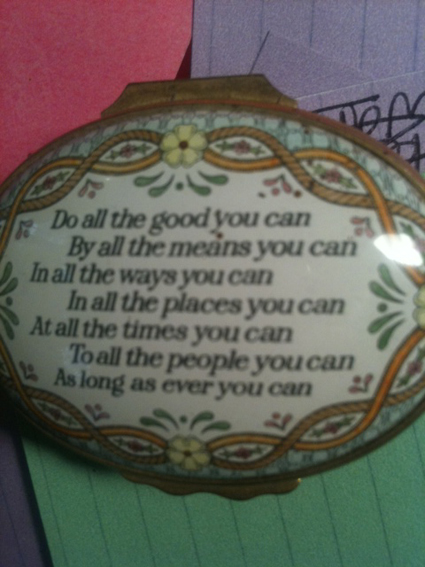 Wise words from John Wesley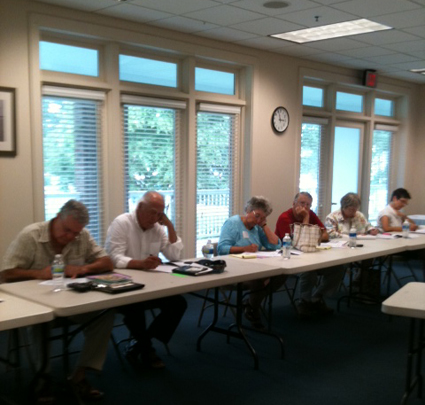 My writing students hard at work. St. Simons Island
July 2013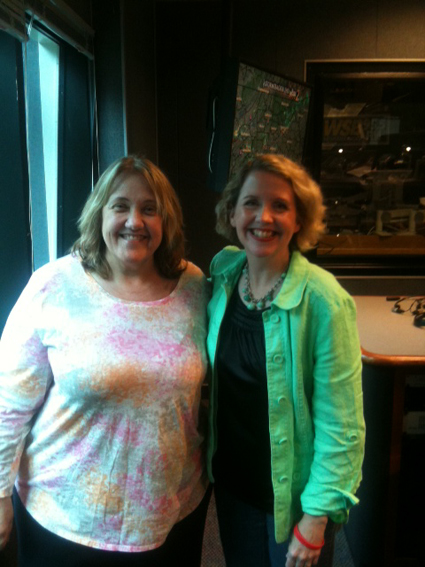 With WSB Radio Producer Crystal Wheeler after an interview on Belinda Skelton's show.
Spring 2013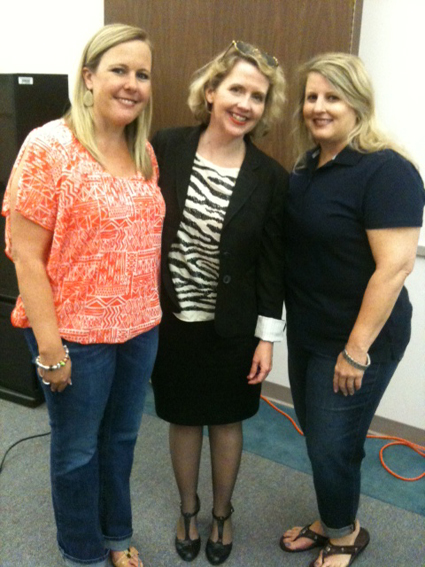 With DFACS officials in my hometown. What an honor to return home to speak to the staff there.
April 2013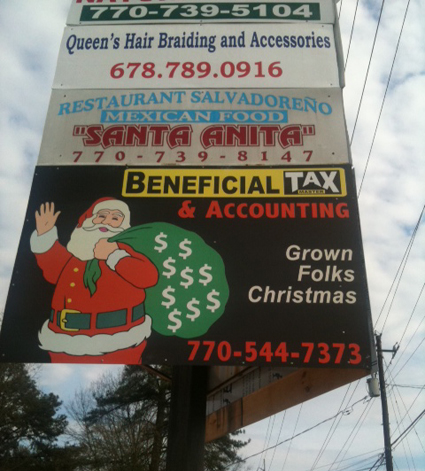 Grown Folks Christmas, Mableton, GA
February 2013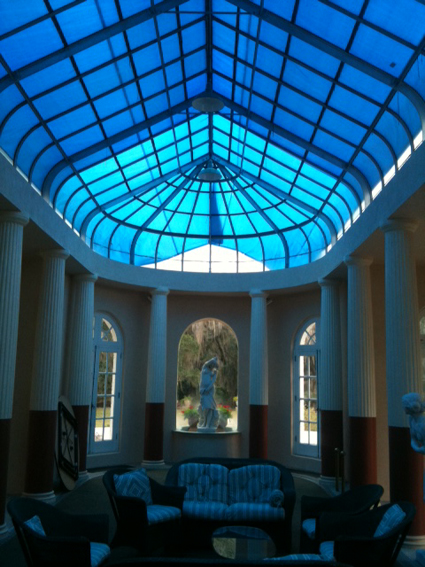 Reynolds Mansion Solarium on Sapelo Island, site of my annual women's retreat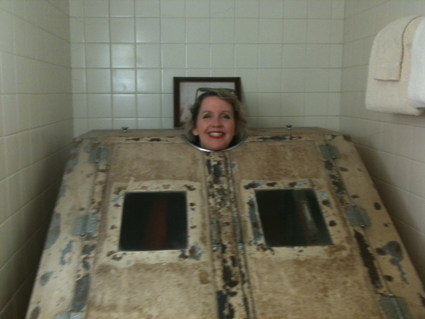 In R.J. Reynolds' tanning machine, Reynolds Mansion
December 2012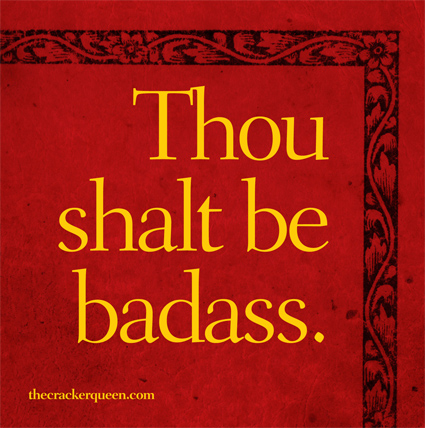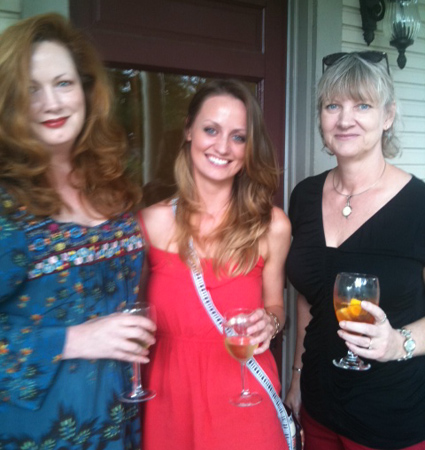 Down Home Writing School, September 2012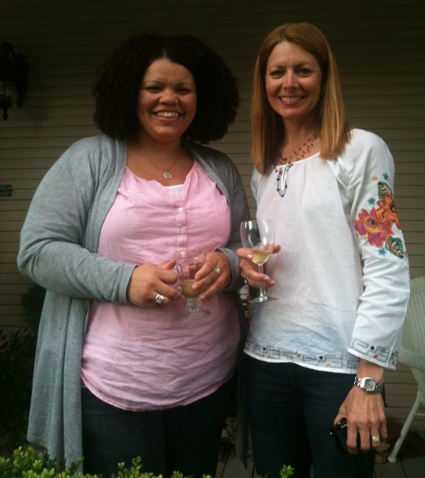 Down Home Writing School, Fall 2012
August 2012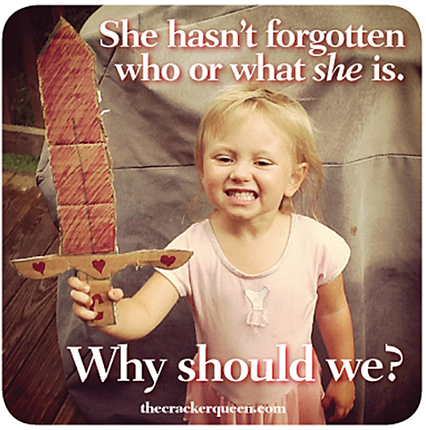 The Cracker Queen Cocktail!
Hello, my name is Lola, & I am NOT an alcoholic.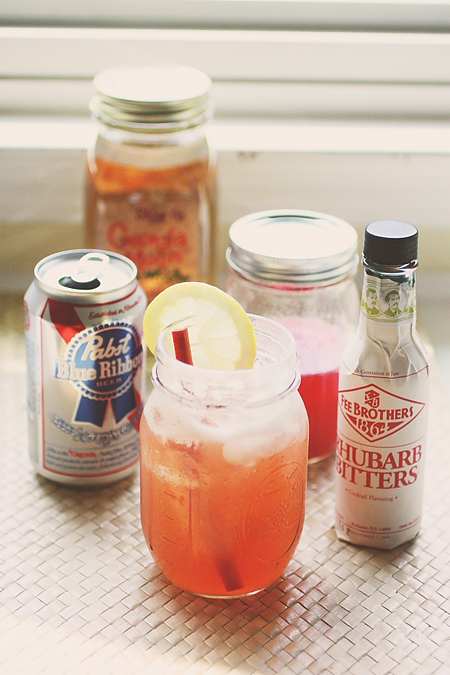 What my 17-year-old self wrote on my suitcase during my solo sojourn in Europe.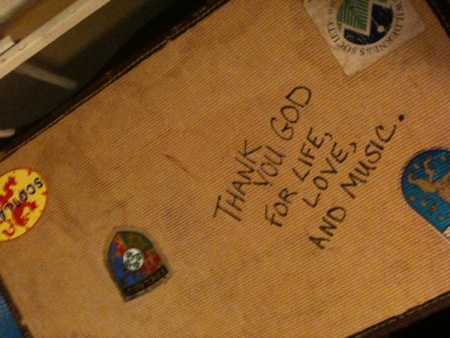 With Nancy Grace at the annual conference of the National Society of Newspaper Journalists. We both spoke at the conference. (May 2012)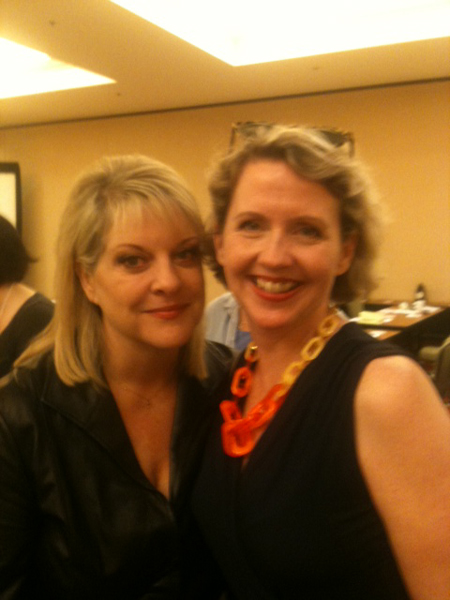 Great discussion was the order of the day with The Throne of Sisters Book Club, East Point, GA (April 2012)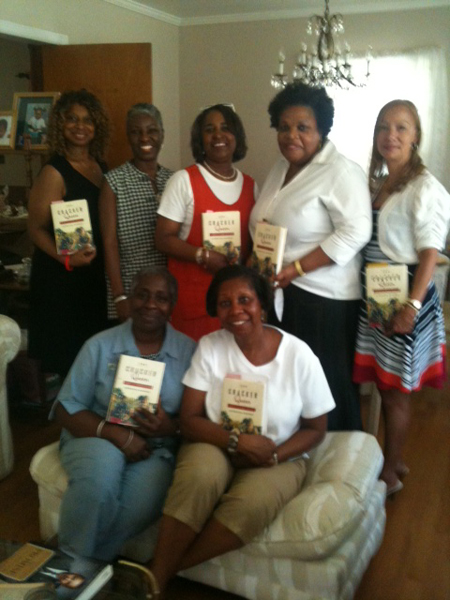 I was presented homemade iced cracker cookies and a partially eaten box of Saltines (nothing's too good for The CQ!) by members of the Page Turners Reading Guild, Powder Springs, GA (April 2012)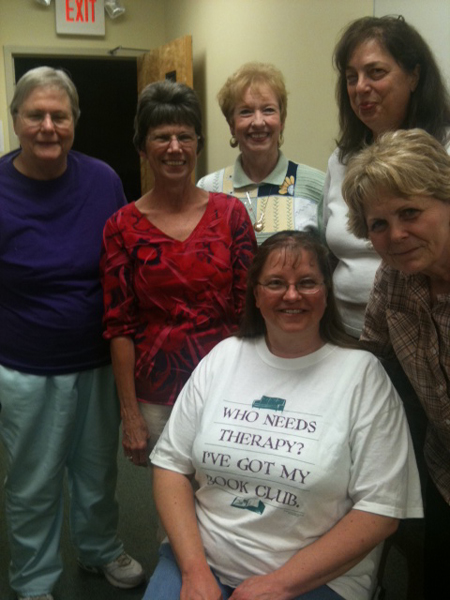 See photos from my recent writing residency at the
Hambidge Center for Creative Arts & Sciences
March 2012
Ask for Miss Bree if you're at The Cupboard restaurant in Dillard, GA. She is a Cracker Princess for sure!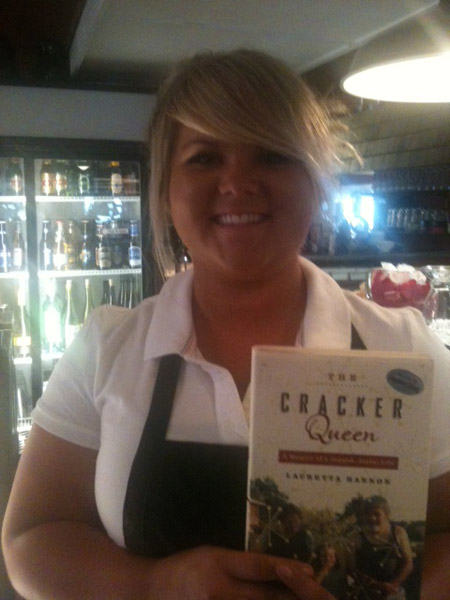 Erin go Bra-less! (March 2012)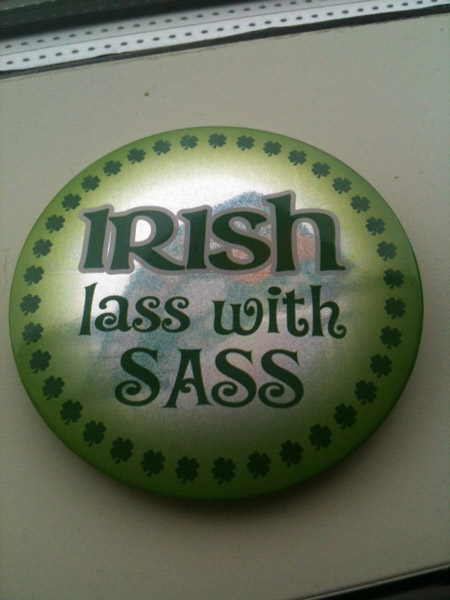 February 2012
Part of the set for my Evening of Love & Laughter at the Harris Arts Center, Calhoun, GA. Notice the roller skates and the saxophone poking out of a drawer. The event raised funds to help prevent child abuse in Gordon County. (February 2012)
With readers after the Evening of Love & Laughter event (February 2012)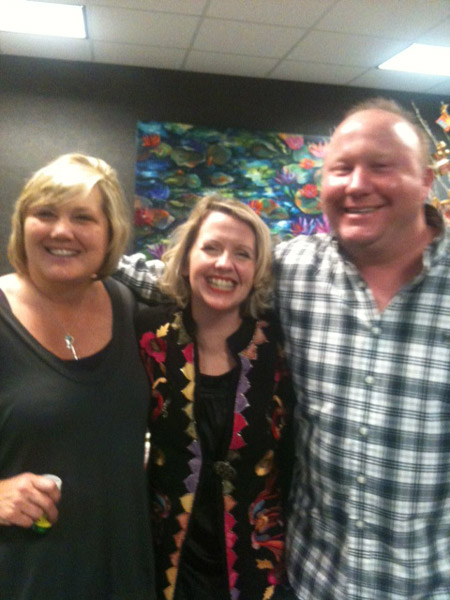 Had lots of fun speaking to a sea o' green blazers at the Irish Breakfast held by the Dublin-Laurens County Chamber of Commerce (March 2012)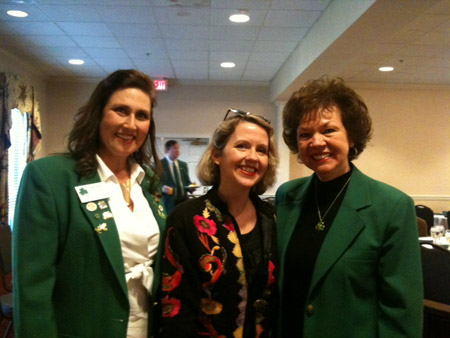 October 2011
Seen at 2nd Annual She Who Laughs Retreat, Oct. 2011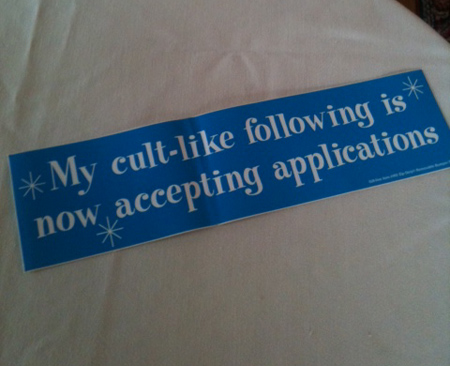 Lunch on the lawn in the gorgeous North Georgia mountains, She Who Laughs Retreat, Oct. 2011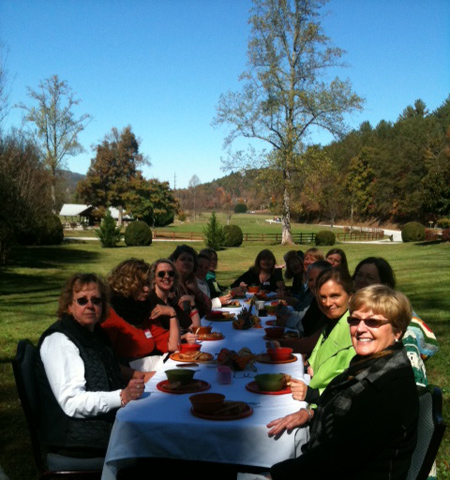 Porch-sitting & dog-lovin' at She Who Laughs Retreat, Oct. 2011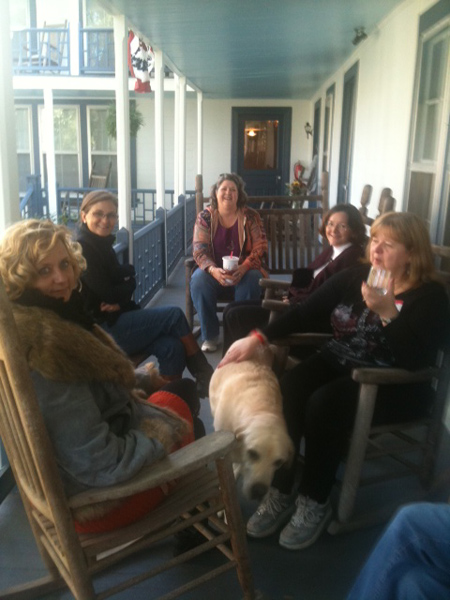 With CQ Hall of Famer Diana Morrison, Oct. 2011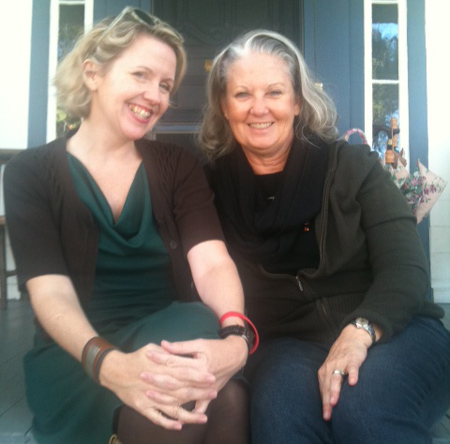 With readers at Crossroads Writers' Conference, Oct. 2011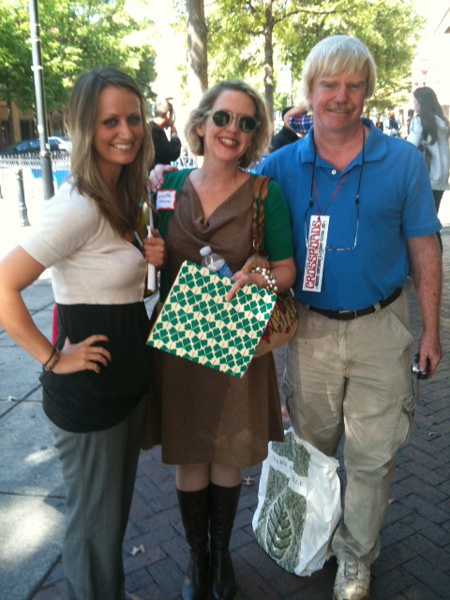 With my mentor Terry Kay, Georgia's greatest living writer, Oct. 2011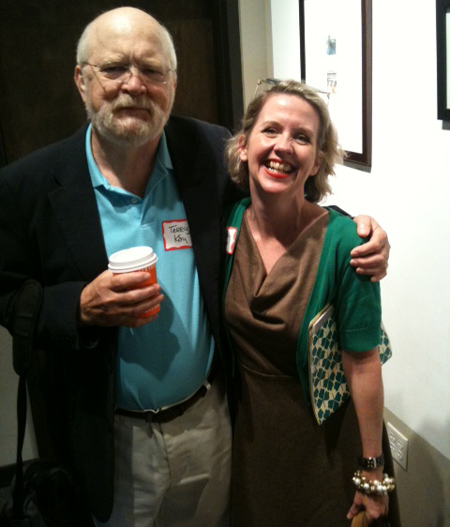 Having a jolly time at the Down Home Writing School Retreat, Sept. 2011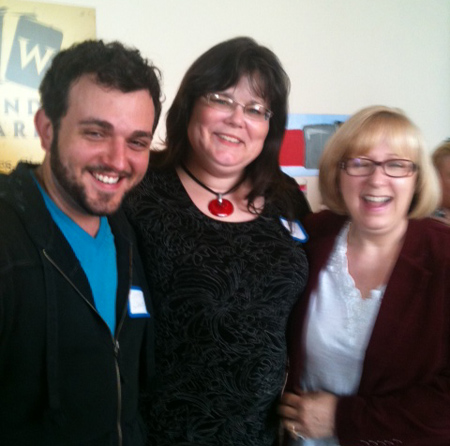 Literary lounging at my writers' retreat, Sept. 2011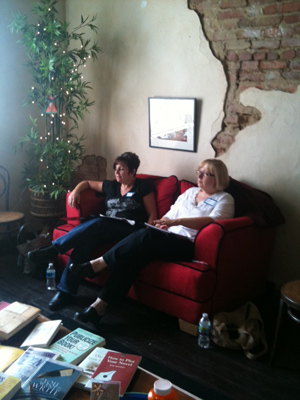 Big Canoe Chapel Women's Guild, Sept. 2011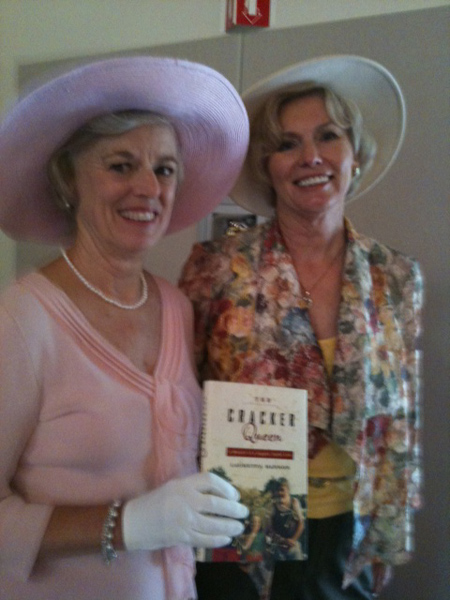 Fun times at CQ Book Bonanza, Aug. 2011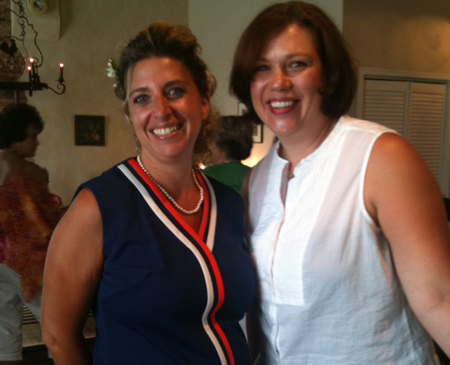 With wonderful CQ readers, Aug. 2011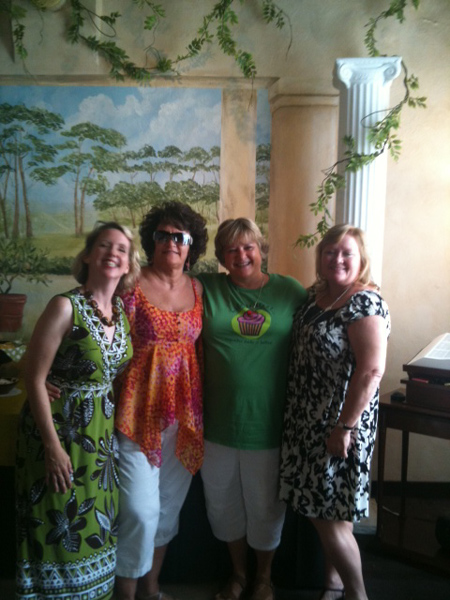 The Hive Grand Opening--You Won't Believe Your Eyes - Click Here
Myra Crawford poses during the grand opening of The Hive. Photo by Zachary Toth
Hatapalooza 2011!
-such fun to emcee this event for hundreds of Red Hat Ladies (March 2011)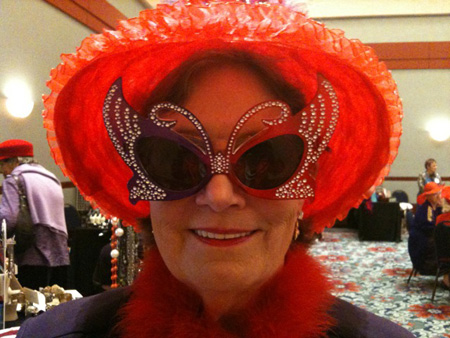 Queen Butterfly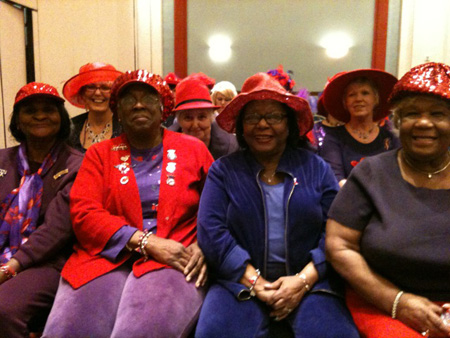 Girls just wanna have fun!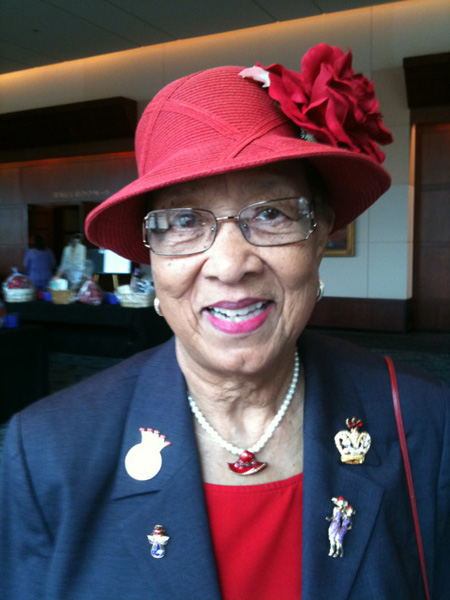 "There's no point in being a woman if you can't be a little sassy," she told me.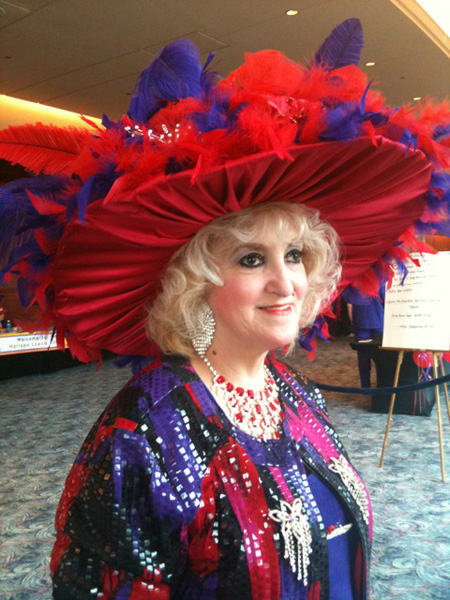 Queen Gaudy in her crowning glory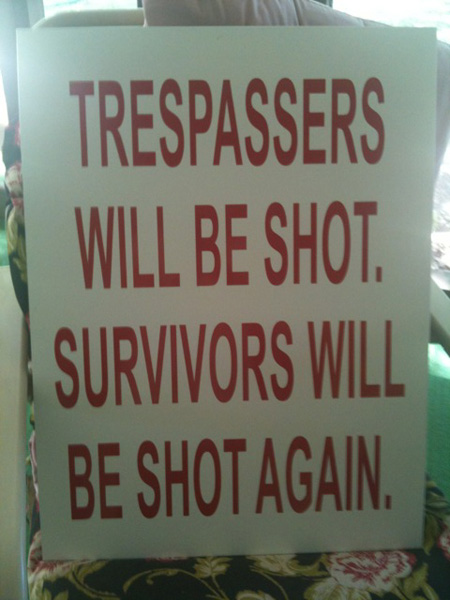 Mama had this sign made after someone stole her lawnmower. (May 2011)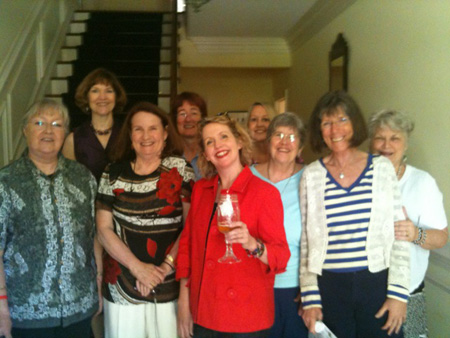 A delightful time with the Middle Georgia Book Club (April 2011)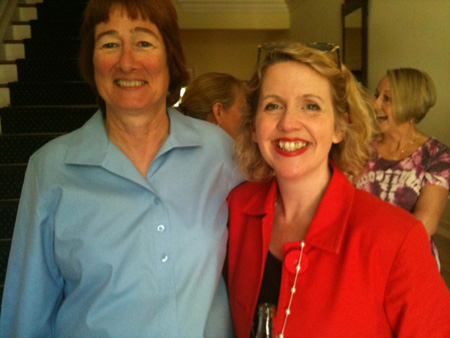 With Diane Lewis, host of the Middle Georgia Book Club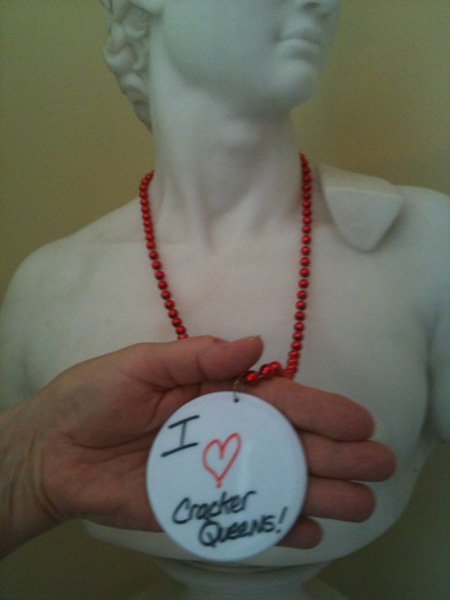 Diane put on the dog for my visit to her book club. This was seen in her foyer.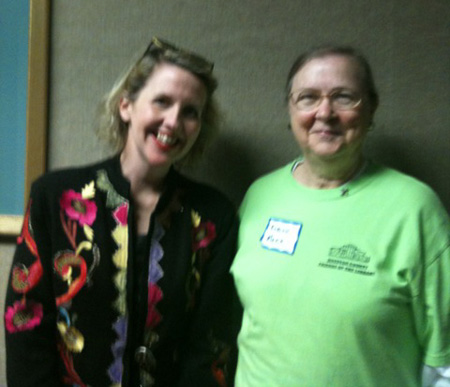 Catching up with Evelyn Merk, my childhood librarian, at the Friends of Georgia Libraries Conference (May 2011)
Savannah Book Festival (February 2011)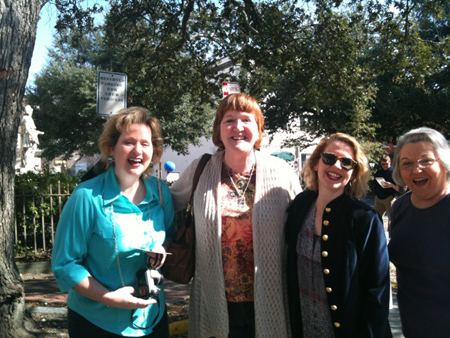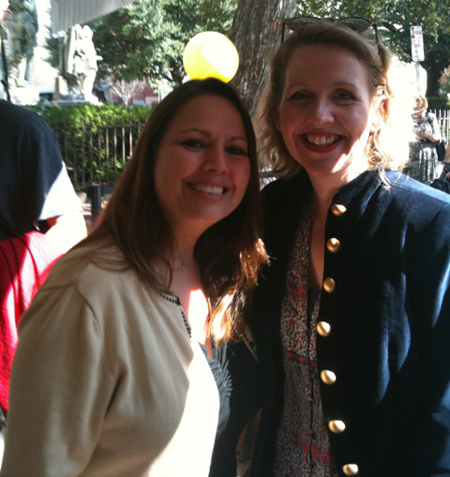 This audience member cried during my reading. I love it when that happens!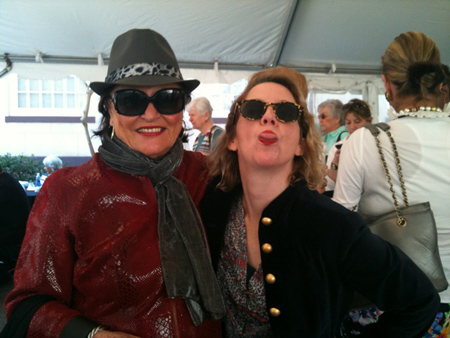 With Miriam Center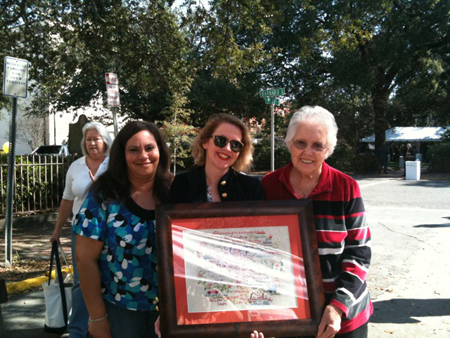 Receiving a gift of such beauty and creativity: a large piece of cross stitching based on the book--complete with sayings and images from CQ. The most beautiful part is the 80-year-old (at right) Sweet Sue King who made it. Her daughter Janie is at left.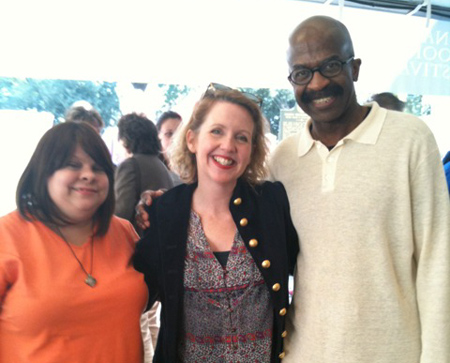 With friends Treva Fitzgerald and George McAllister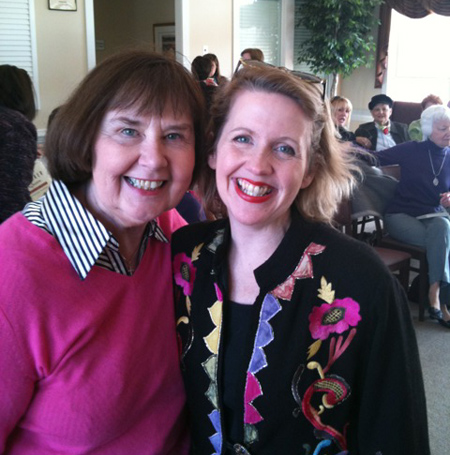 Nancy Bamber of Alpharetta, GA, sure knows how to host an author. (February 2011)
Fun at the North Dunwoody Driving Club (January 2011)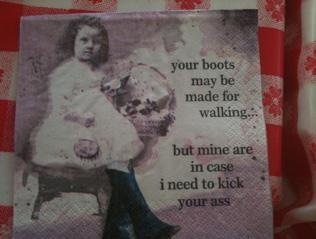 The napkin says it all.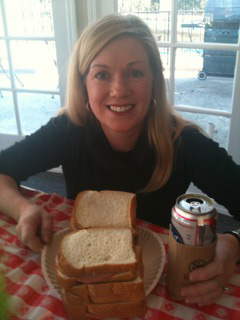 Melissa Donovan makes a mean bologna sandwich. Homemade chow-chow was also served with blackeyed peas and cornbread.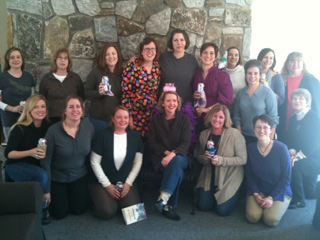 The Dunwoody CQ Posse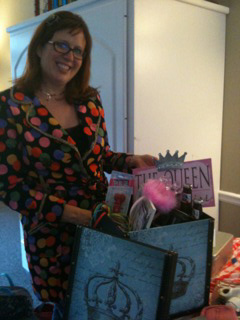 Shannon Mothershed poses with gifts for The CQ.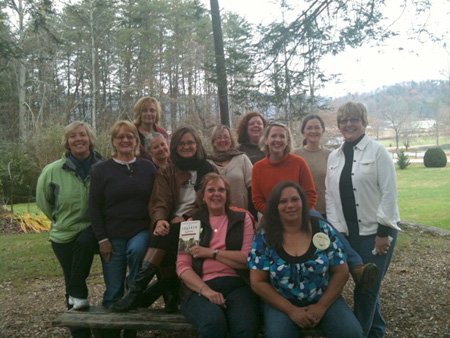 The downright amazing women of the First Annual She Who Laughs Retreat
(November 2010)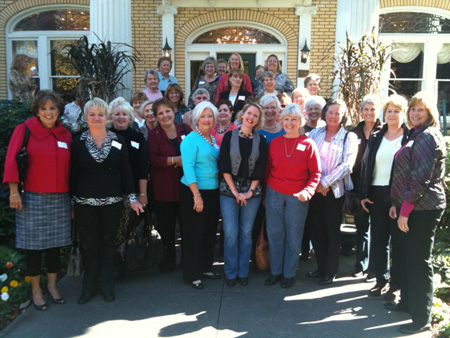 With readers and new friends at the famous Blue Willow Inn in Social Circle, GA (November 2010)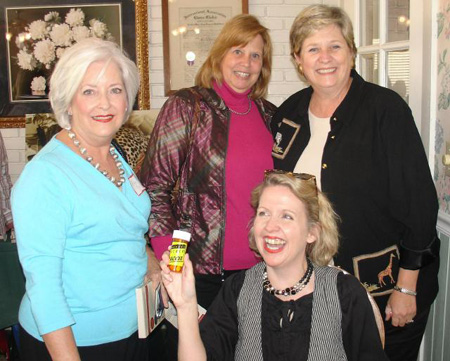 Shaking my CQ "nerve pills" with members of the Lake Sinclair Book Club
(November 2010)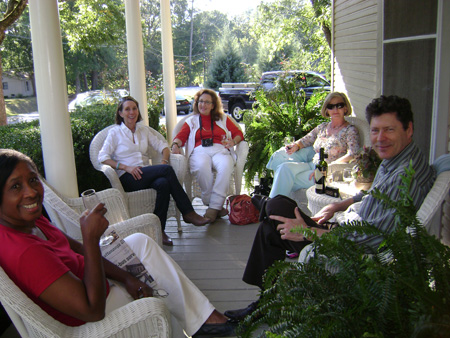 In the company of writers: relaxing after the Down Home Writing School Seminar
(October 2010)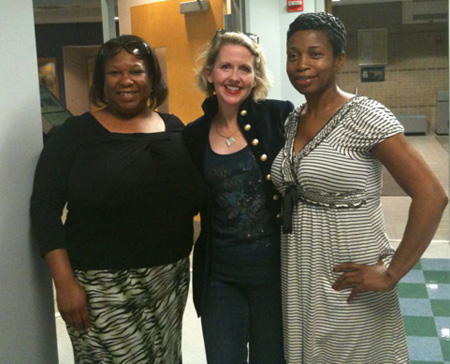 With Anita Hall and CC Fann at Heart of Georgia Technical College (October 2010)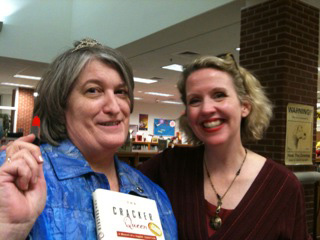 Notice the tiny tiara on the woman's head; she's a teacher affiliated with the Henry Heritage Reading Council. (October 2010)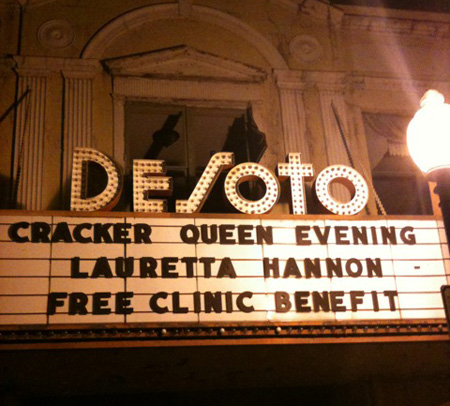 What exactly is a Cracker Queen Evening? (October 2010)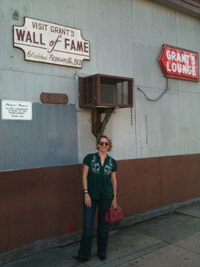 Grant's Lounge, Macon, GA (September 2010)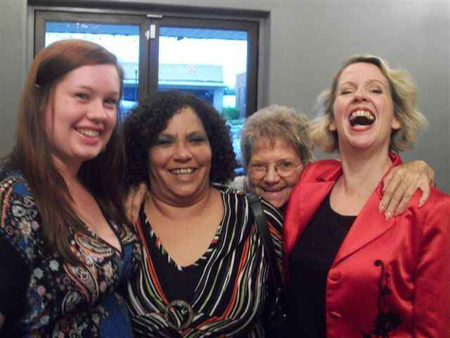 During intermission at the Magnolia Music & Medicine Show. With Rebecca Kidd, Janie King Boyd, Mama, & Big Mouth. (August 2010)
A Most Memorable Night in Jefferson, GA (June 2010)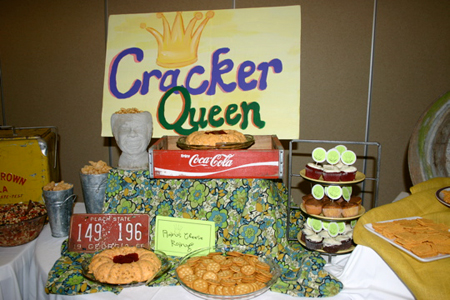 Part of the CQ spread prepared by the Jefferson Public Library staff and the folks at the Jefferson Civic Center. Thanks to all for an amazing event. Photos by Laurie Anderson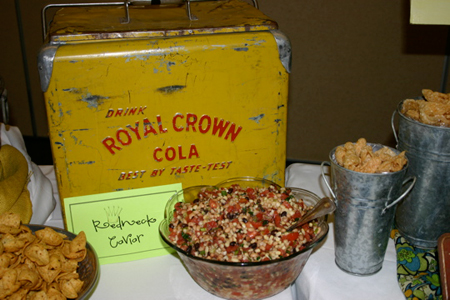 Culturally-appropriate fare: redneck caviar and RC.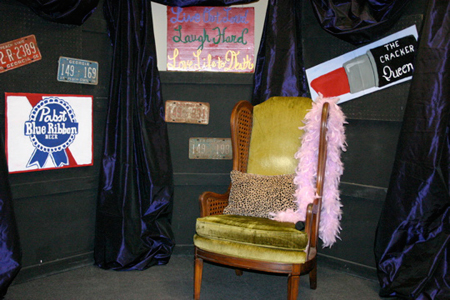 I couldn't believe the stage they designed for me. Check out the "throne" chair and hand-painted signs. They even adorned the dinner tables with kudzu in Mason jars.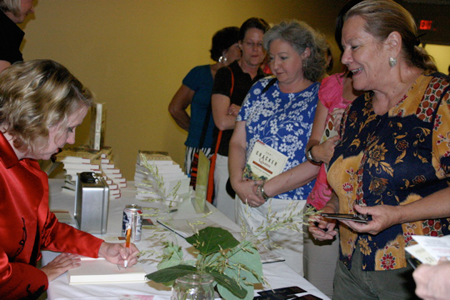 My favorite activity: meeting readers and inscribing books.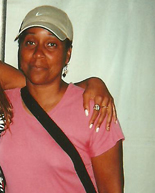 Renee Westbrook is my special envoy to California and West Coast publicity machine. She's a Very Important Member of the CQ Posse! (July 2010)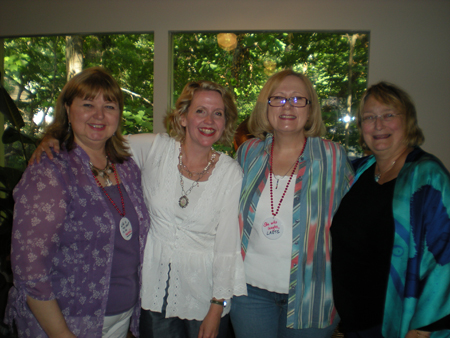 Met these soul sisters at the Phoenix & Dragon Bookstore in Atlanta. Joining me are Karen Beard, Kathy Massey, and Candace Apple. (May 2010)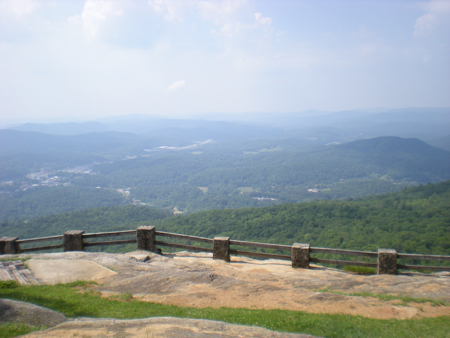 Not a bad backdrop for the She Who Laughs Retreat I'm offering in November. I feel so at home in the mountains.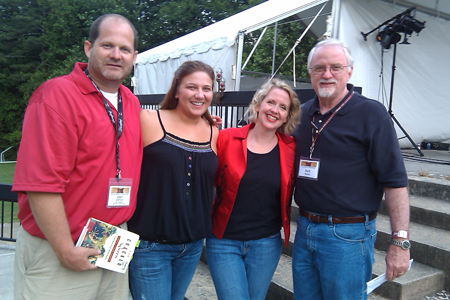 At the Memphis BBQ Network Championship held at Brenau University. With me are John Jarrard Foundation Executive Director Jody Jackson, Singer/Songwriter Kimberly Clark, & Brenau's David Morrison. (May 2010)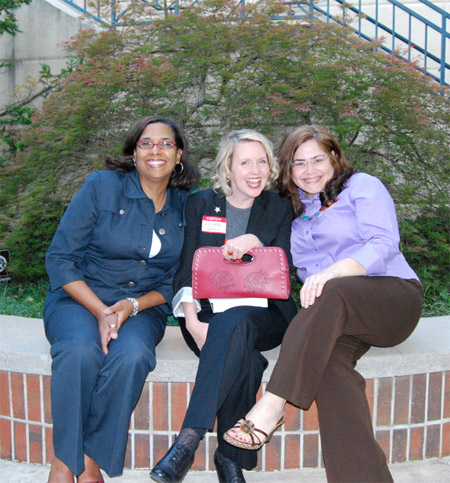 Celebrating with friends Joni Williams and Ana Raquel Ruiz at the ceremony for the Top 25 Books All Georgians Should Read. I couldn't believe CQ made it on a good list! (April 2010)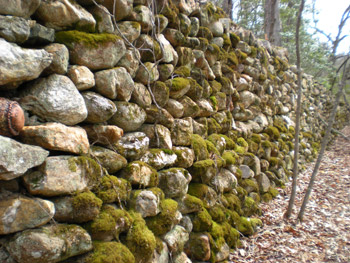 My writing residency at the Hambidge Center filled me up with elemental things. I love this old rock wall on the property. (March 2010)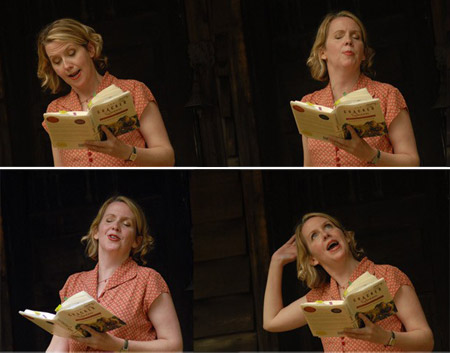 Getting lost in the story at the CQ Porch Party (May 2010). Photo by Leita Cowart.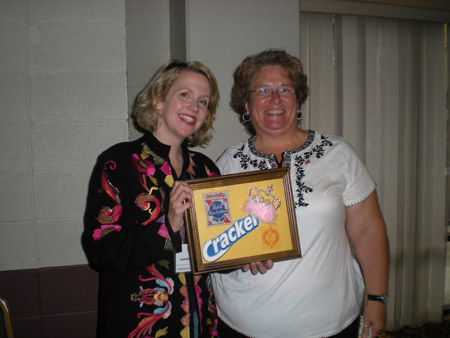 Accepting a super-cool gift from Anne Horne Welch of the National Association of Women in Construction (NAWIC). She made a shadowbox that featured a tiara and vintage Pabst Blue Ribbon patch. I was the keynote speaker at the NAWIC conference in Gatlinburg, TN. (April 2010)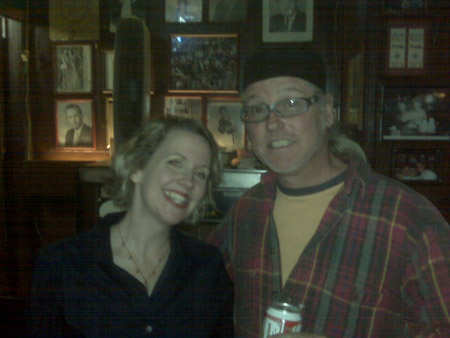 With CQ reader Scott Sweat at my beloved Pinkie's in Savannah. (March 2010)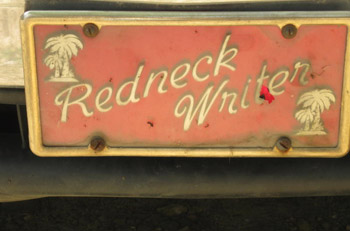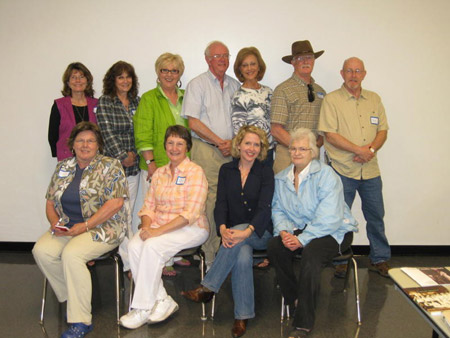 With members of the Carrollton Creative Writers' Group after presenting one of my Down Home Writing School seminars. (April 2010)
Join me for the May 1st Porch Party!
Click here to view the
Porch Party Invite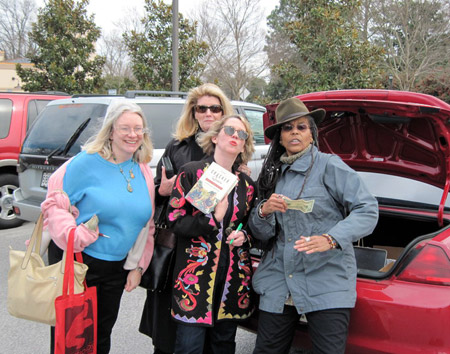 A spirited group of folks followed me to my car after the Crossroads Writer's Conference to buy a book from the trunk. We made it a trunk sale/tailgating party! Poet Doris Davenport at at right.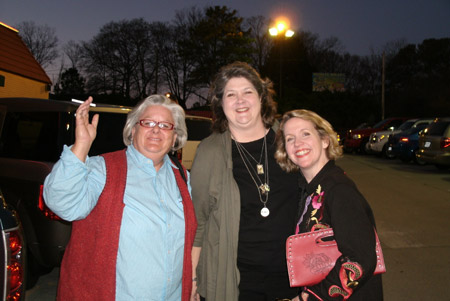 Joyce Towers, at left, traveled from Pipe Creek, Texas, to attend my Down Home Writing School. Her friend Jeanne Shilstone, center, flew in from Plano, Texas. They were such a delight! (March 2010)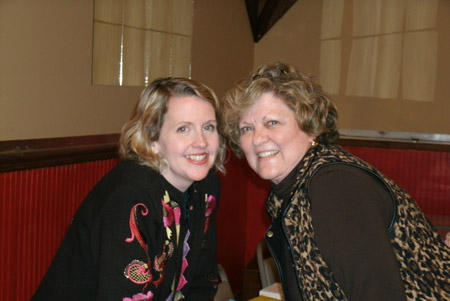 With Jane Wyatt at my Down Home Writing School Seminar. Who says writing seminars can't be fun?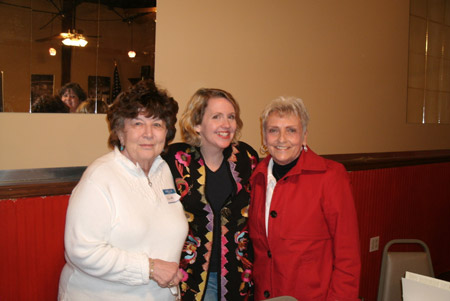 Seminar Participants Loretta Pelaia & Marlene Jacobs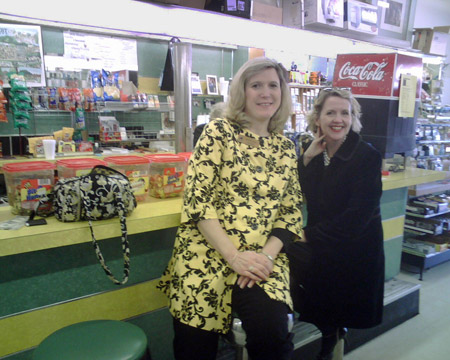 Andrea Daniel, at left, took me to this wonderful drugstore lunch counter in Elberton, GA. I ordered a Pink Elephant before meeting with the town's book club. (February 2010)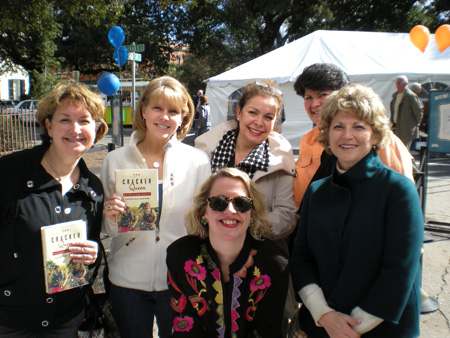 These fabulous readers came all the way from Glen Ellyn, IL, to see me at the Savannah Book Festival. What an honor! (February 2010)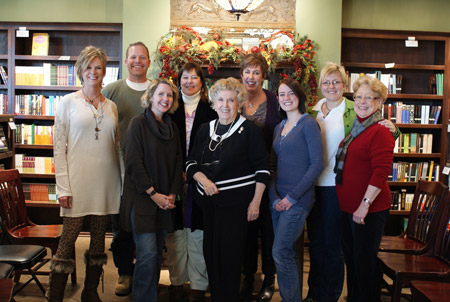 Some of the students in my Memoir Seminar on January 10. We had a blast! Thanks to FoxTale Book Shoppe for hosting the event. FoxTale is one of my favorite bookstores in the world.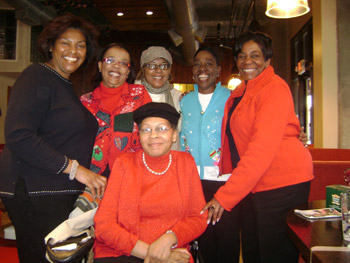 Had a wonderful brunch with the women of the Atlanta Literary Society (November 2009)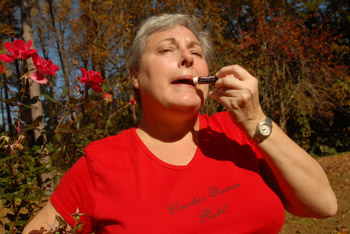 Jenna Albright of Clarkston, GA, wears her "Cracker Queens Rule!" shirt with attitude. Do NOT mess with Miss Jenna.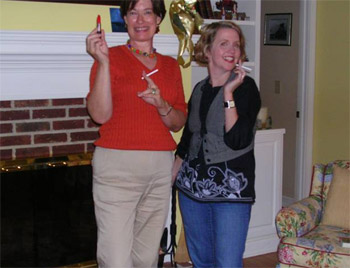 Cuttin' the fool with Toria Morgan, Book Club Meeting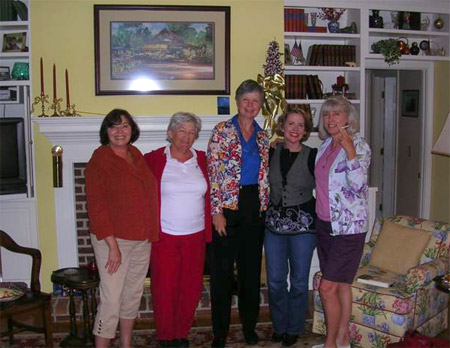 I heart book clubs! Marietta, GA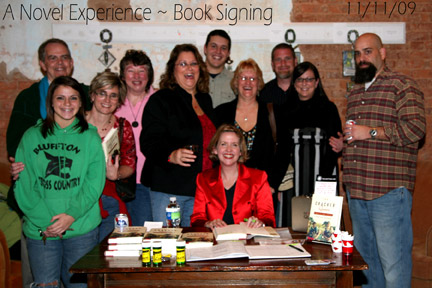 Thanks for the warm welcome at A Novel Experience in Zebulon, GA. (November 2009)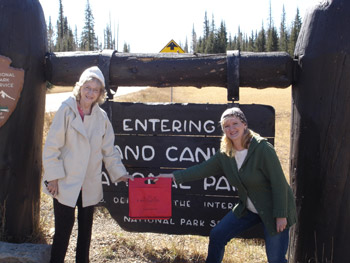 Barbara Lampp and Kim Crowe show off their Cracker Queen bag at the entrance to the Grand Canyon.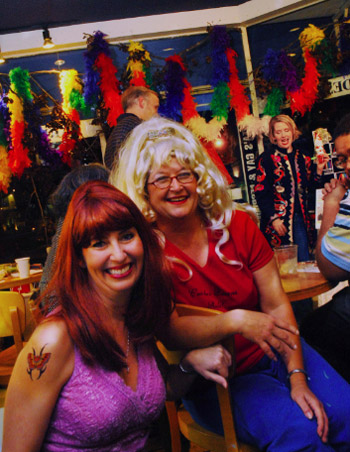 Cindy and Jill, in all their Queenly Magnificence, at the recent event at Outwrite Books in Atlanta.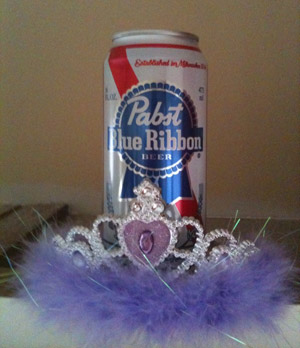 CQ Shrine (photo sent in by reader)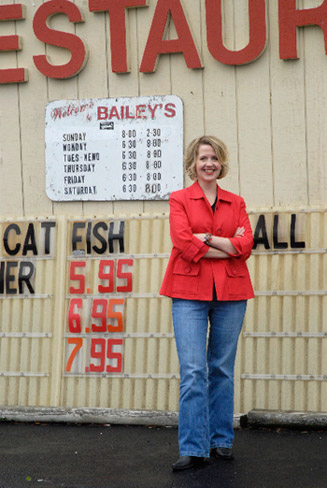 From Atlanta Journal-Constitution photo shoot (photo by Leita Cowart)
Matt Buchanan dons his CQ tiara at Outwrite Books.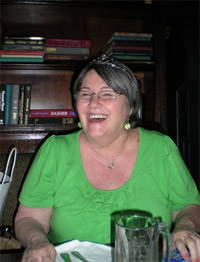 Fran Perry of Wilmington, NC, recently earned her Cracker Queen tiara.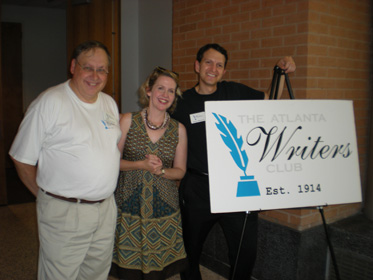 With Marty Aftewicz and George Weinstein of the Atlanta Writers Club--the premier organization for writers in the Atlanta area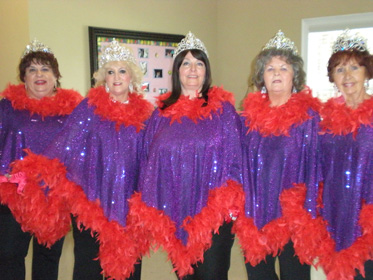 These Red Hat Ladies, known at the Dancing Queens, performed before I spoke at a Red Hat event. I need one of those ponchos...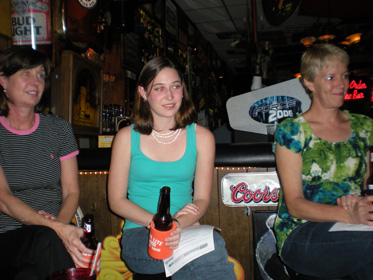 Book club members in Clemson, SC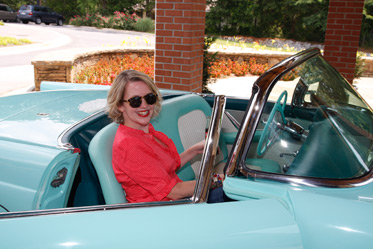 My book party in Powder Springs, GA, was a hoot. We had a CQ parade, and I arrived on the back of a '55 Thunderbird.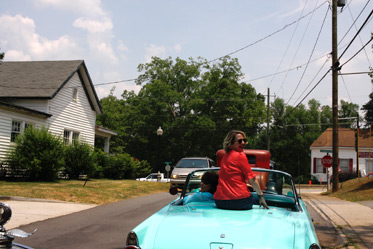 Tip to Fellow Queens: holding a parade in one's honor is a great way to start your weekend.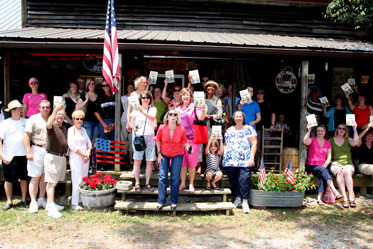 Book Party in Powder Springs, GA
Held on the side porch of The Country Store of Seven Springs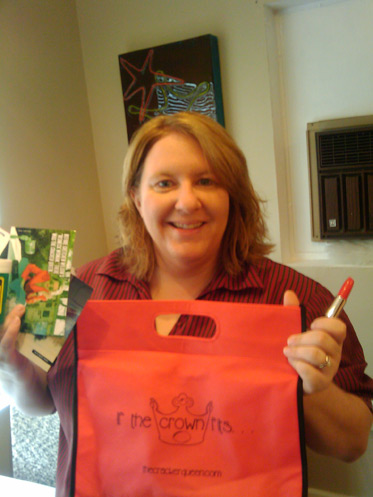 Congrats to Joyce Crowder of Savannah! She won the "You might be a Cracker Queen if..." contest with this entry: You might be a CQ if all your recipes start with "First slice open the Velveeta."

Joyce is seen with some of her CQ goodies. Participate in our contests and giveaways by subscribing to the e-newsletter.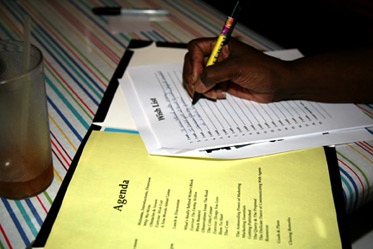 Seen at the Down Home Writing School Seminar (July 2009)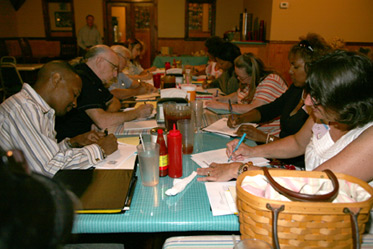 Students hard at work at the seminar.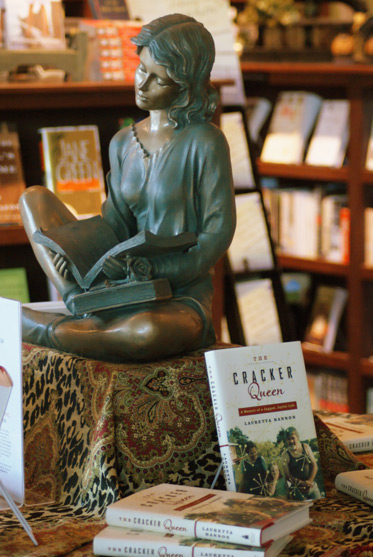 Seen at the CQ Party at FoxTale Book Shoppe, Woodstock, GA
The women who run this bookstore are fabulous. Visit them and give them your money. Photo by Jennifer Carter.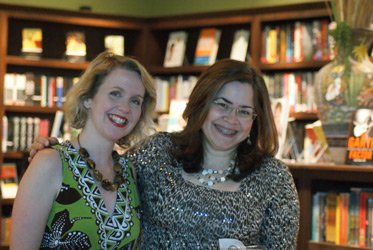 With the lovely Ana Raquel, FoxTale Book Shoppe
Ana Raquel, originally from Puerto Rico, made the tasty white-trash dishes served at the party. Photo by Jennifer Carter.
Scenes From The Southern Tour 2009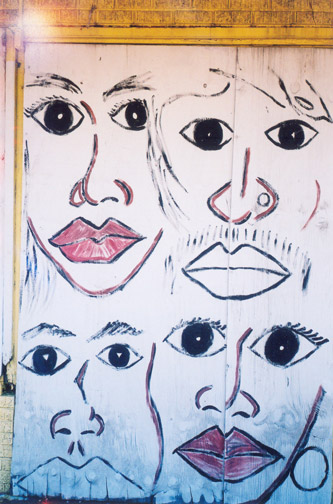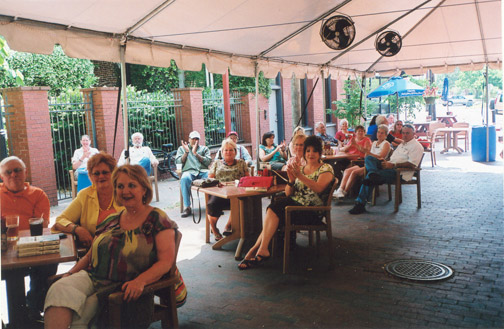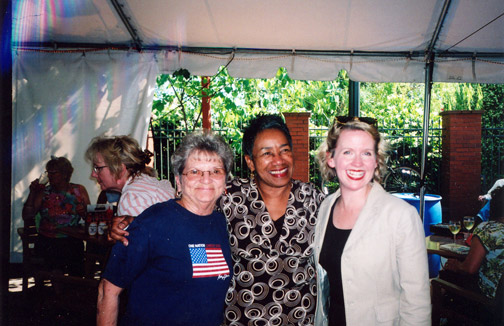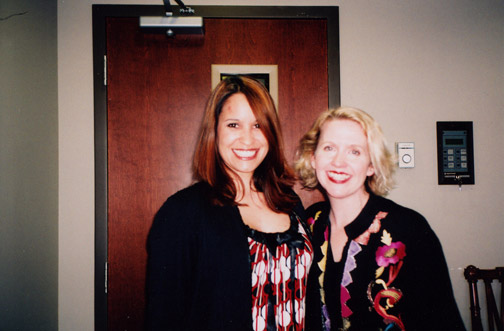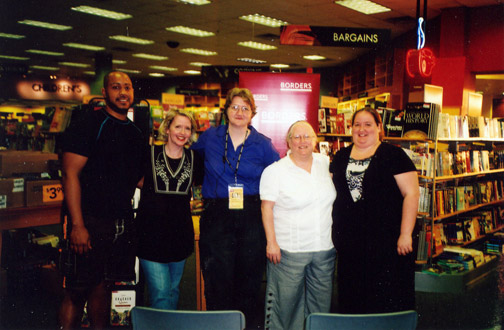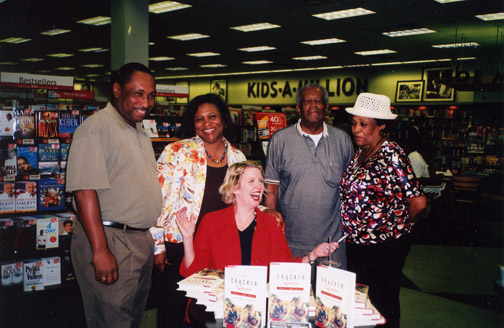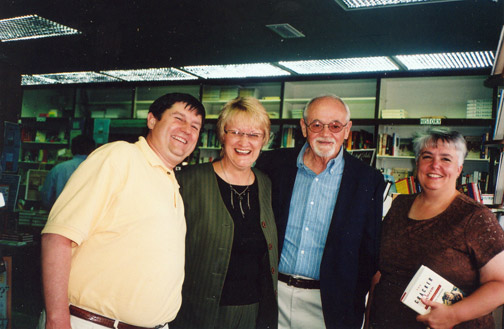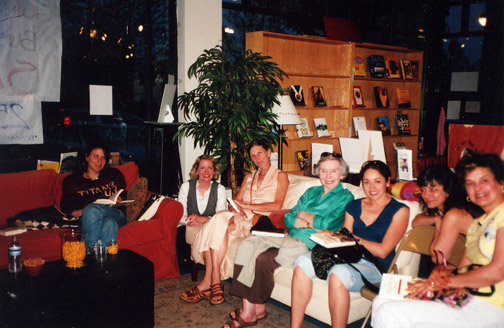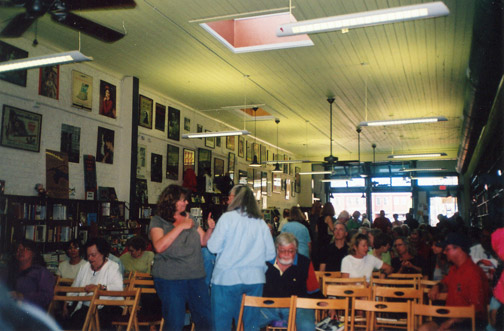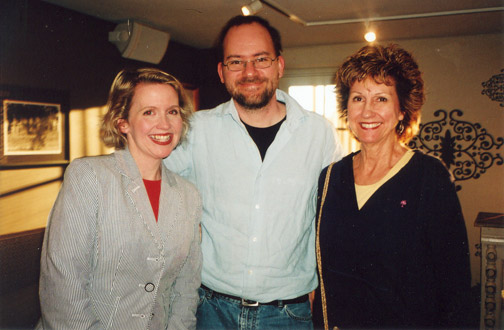 St. Patrick's Day 2009
I spent St. Patrick's Day with a fun group of women (and a few guys who weren't bad either): the Paulding County Chapter of the American Business Women's Association. Their event was held in Dallas, Georgia, and I had the pleasure to be their keynote speaker. Here are some scenes from that night.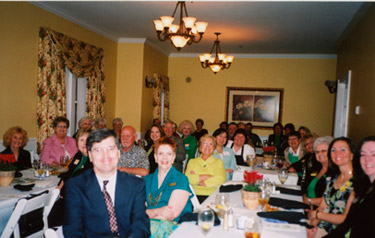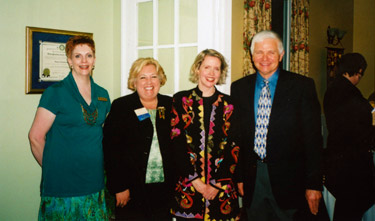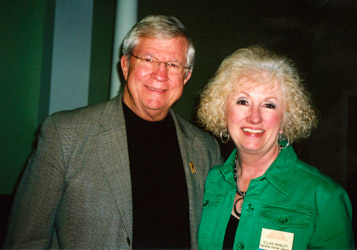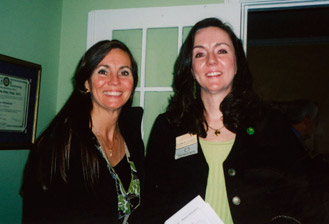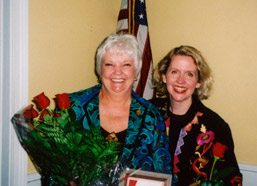 March 2009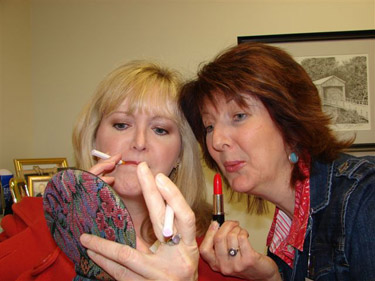 Gettin' ready for church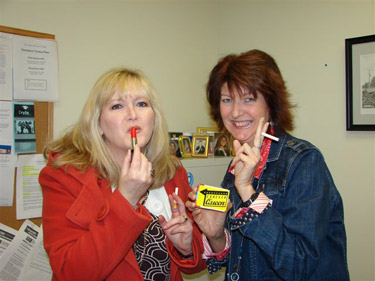 Lori flaunts her pack of CQ cigarettes while Kim applies her CQ lipstick
December 2008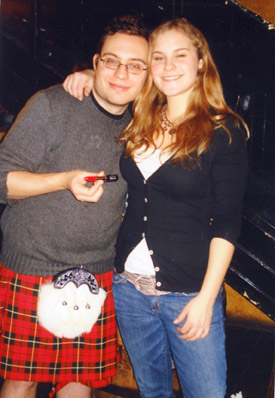 Mary-Elaine Jenkins, longtime CQ devotee, is seen in a dive bar called Whistlebinkies in Edinburgh. During her recent semester abroad, she made it her mission to spread the CQ virus throughout the United Kingdom. You can't tell it very well, but her kilted friend is holding her tube of Cracker Queen lipstick.
October 2008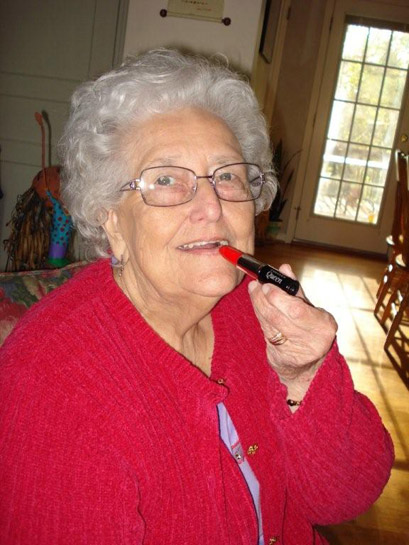 Dot Leverett of Nashville samples her Cracker Queen Red lipstick.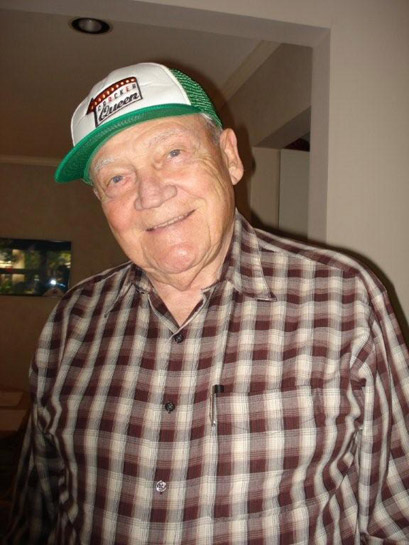 Les Leverett, former longtime official photographer for the Grand Ole Opry, models his Cracker Queen hat.
September 2008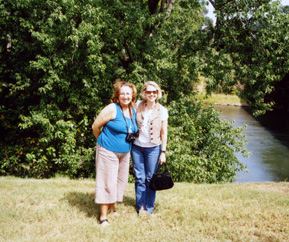 That's Nancy Dorman-Hickson (at left), the freelance writer for Southern Living. We were standing near the site of the Annual Redneck Games in East Dublin, GA.
Queen Terry Hannon, seen in Washington, DC, August 2008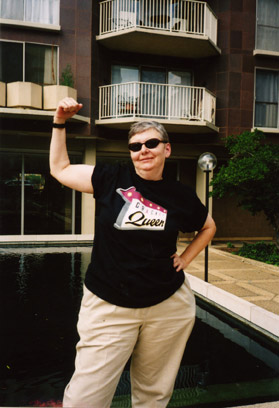 This is one Whup-Ass Woman. She's a retired lieutenant colonel, a Lutheran minister, and an all-around take-charge phe-nom. (She's also a fine sister-in-law.)
Laughing Hard in Moultrie, Georgia (May 2008)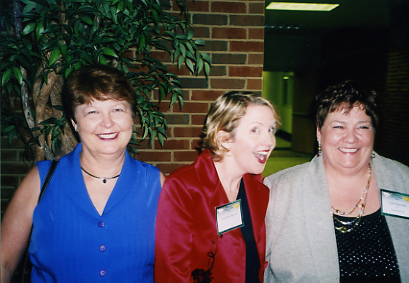 These women were great fun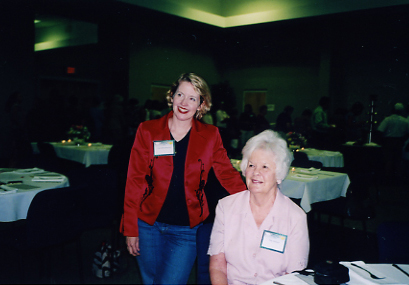 With Gay Antoun, a fantastic lady and insatiable reader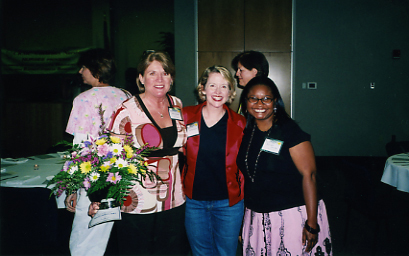 Oh how I appreciate fab audience members like these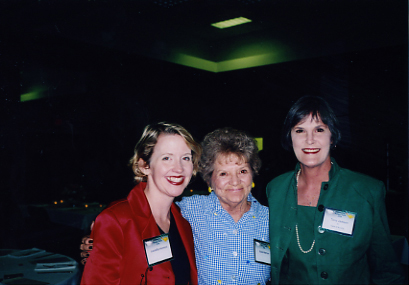 That's Mama and Terry Jackson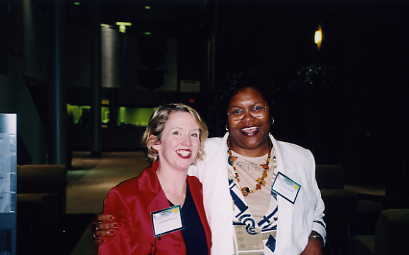 With Cynthia Ingram, one of the most enthusiastic and supportive audience members I have ever come across. Cynthia, you RULE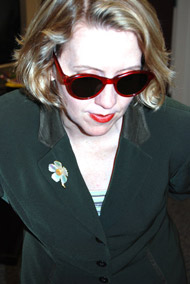 My sunglasses aren't too loud are they? (March 2008)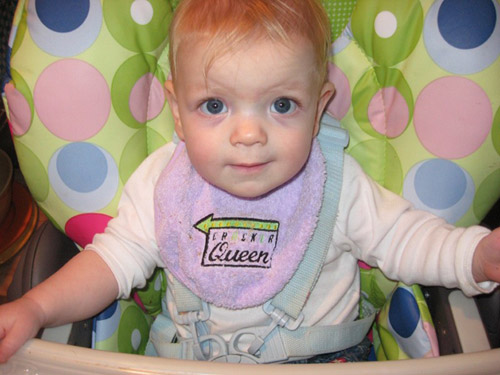 Look closely at the baby's bib: she's wearing a Cracker Queen bib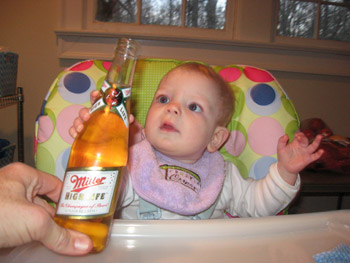 Better than mother's milk (February 2008)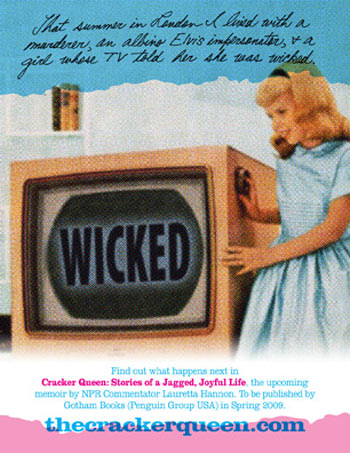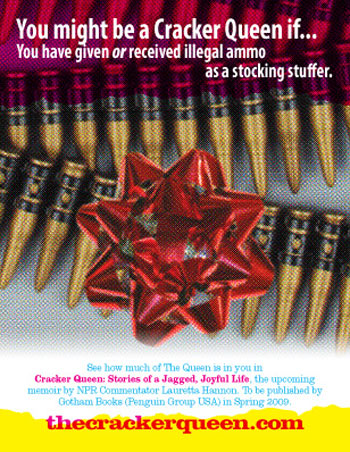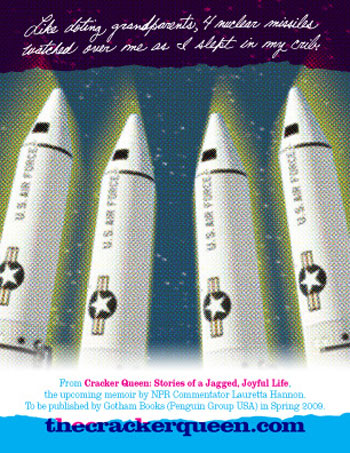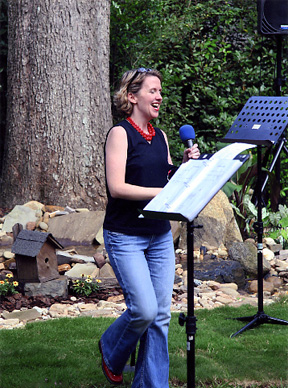 Doing my CQ thing at a fundraiser in Georgia, July 2007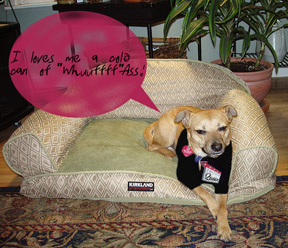 Gone to the dogs. Eboe, who reigns from Seattle, gives the CQ his full endorsement. (July 2007)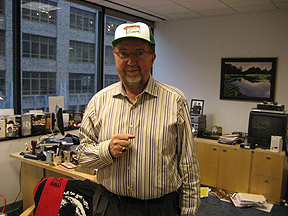 Doesn't Bill Shinker, President & Publisher of Gotham Books (Penguin), look spiffy in his CQ trucker hat? Keep on truckin'!
(May 2007)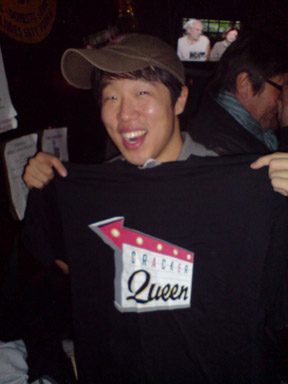 Ray Lee enthusiastically models the latest fashion trend in Greenwich Village. He stars in MAMMA MIA!, the Broadway show based on ABBA songs. (March 2007)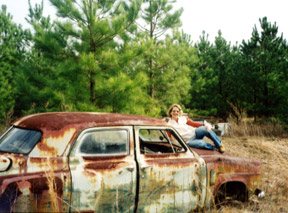 One of my favorite sights: rusted old junk cars (March 2007)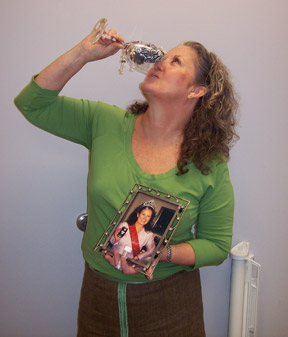 The Fabulous Diana Morrison, the first to be inducted into the Cracker Queen Hall of Fame, shows us that she still has it. She is holding a photo from her Induction Ceremony in 2002. (February 2007)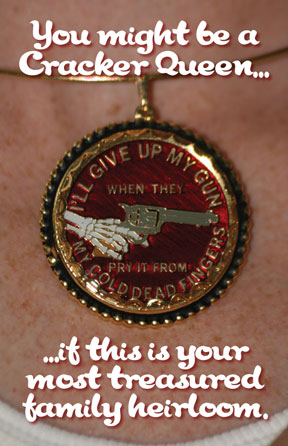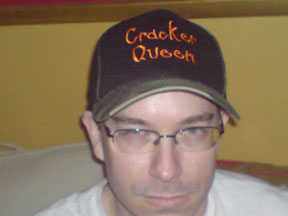 It takes a real man to wear the Cracker Queen hat. (December 2006)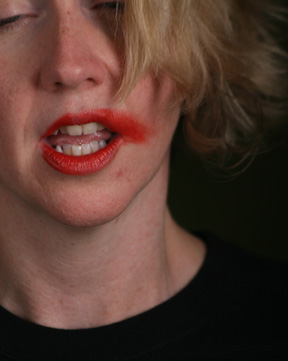 The Cracker Queen: Because bad choices make GREAT stories.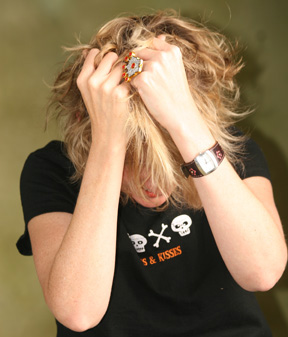 Photo shoot outtake, October 2006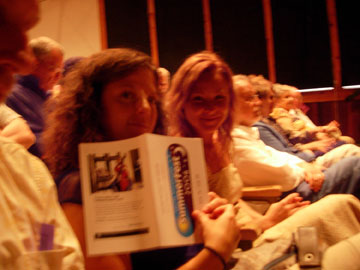 Dacia Moore and Misty Hayes at the CQ Show on July 22, 2006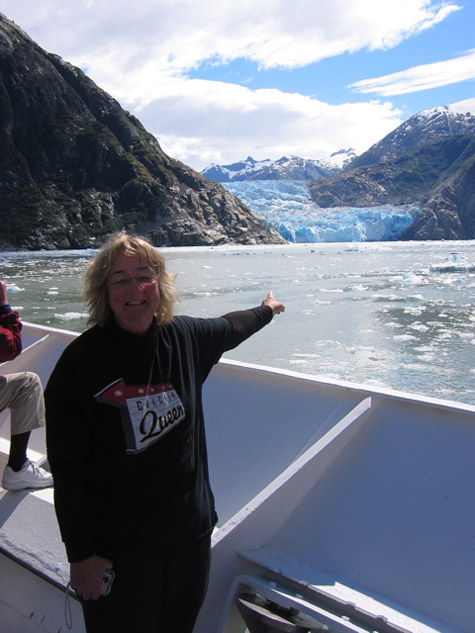 Denise Martin of Vermont demonstrates that Yankees can most certainly be
Cracker Queens. She's seen here in Alaska.